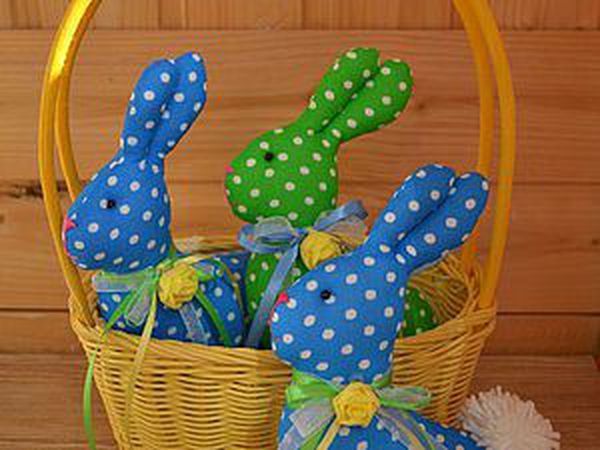 The glorious Easter is comming, and each family has its secrets and ways of decorating Easter table. I suggest you sewing an Easter Bunny that would serve a nice table decor.
I used the following materials and tools:
1. Cotton fabric for the body.
2. Threads to match the fabric.
3. Embroidery floss for the nose.
4. White yarn for the tail.
5. Polyester batting for stuffing.
6. Satin ribbon.
7. Flower of paper of foam.
8. Black beads for the eyes.
9. Needle.
10. Soft pencil or tailor's marker to transfer the pattern on fabric.
11. Shaped shears or scissors.
12. Sushi stick (it'll be used to turn and stuff the blanks).
13. Super glue or glue gun.
14. Sewing machine.
15. Iron.
16. Pattern. Print the pattern on A4 paper and cut it out.
The fabric is carefully ironed and folded in half, face inwards.
Transfer the pattern with a pencil onto the fabric.
Sew the details on the machine along the contour leaving space for stuffing.
Cut out the stitched details with shaped shears or scissors making allowances at 0.5 cm from the seam at the same time. Then iron and stitch the ears on the machine, the place marked on the pattern with dotted lines. Stuff the body starting with the ears. Sew up the hole with a hidden seam.
Sew black beads and embroider the nose with embroidery floss. Tie satin ribbons around the neck, make a pompom of yarn and sew it to the tail. Our Easter Bunny is ready! DIYs & Tutorials on the topic