Tutorial on How to Make a Bag of Wood and Leather
Difficulty: High

Materials:

genuine leather

,

leather

,

tree

,

wood

,

cutter

,

knife

,

scissors

,

glue

,

cliche

,

brush

,

clove

,

koberna button

,

thread

,

sewing machine

,

paint

,

hole punch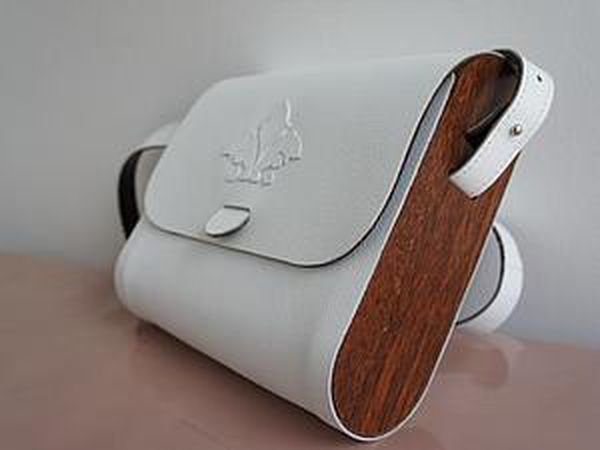 We decided to share a brief guide on how to create our author's handbag of wood and leather.
We welcome your comments and feedback.
So let's start.
We finally selected the material: contrasting combination of mahogany and white leather looks very impressive and is truly summery. I really want some heat and sun )
Step 1 Transfer the pattern on leather and cut out with a sharp knife. The hole for the buckle is cut with a puncher and a knife. The edges of the hole are painted with white paint for leather: For this model we use solid mahogany blanks: Step 2
Duplicate the top of the bag with chocolate leather to give it rigidity. Stick the two layers of leather to each other with a shoe glue. Glue the strap. The blank is put under a press for several hours. Step 3
Using thermal press machine and a special magnesium cliche, we put a stamp of our logo. Step 4
Glue the top of the blank to the wooden side panels. Fix it with small nails. Step 5
Making a pattern. Print out the pattern, cut out and transfer to leather. The pieces of the cut leather are applied to the front lid. It is important to sandpaper and degrease the surface of the lid and the contour of the pattern. The last thing to do is to cut out and stitch the strap to fasten it with a snap fastener in the slots of the wooden parts.
Sew the strap with clips.
The handbag is ready! Wish you many brilliant ideas! DIYs & Tutorials on the topic