A Simple DIY Project: Jewellery Box of Cardboard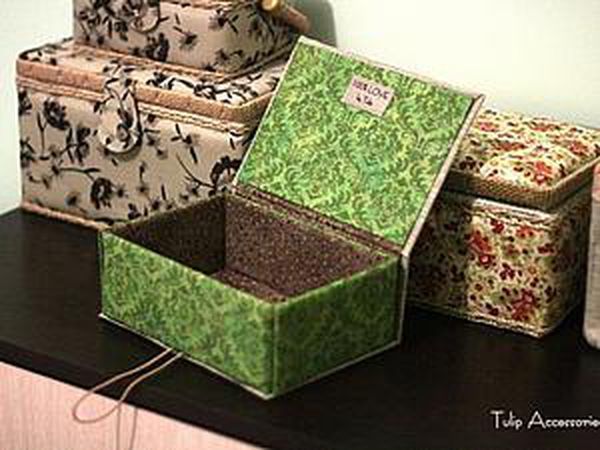 Today I will show how to make a box for all sorts of things :)
Materials:
1. Thick binding cardboard.
2. Thiner cardboard, 260-280 g / m3.
3. Several types of fabric.
4. Rivers of glue :)
5. Mountains of fleece.
6. Cuties for decor.
7. painting (paper) tape.
8. Tools: knives, scissors, all sorts of rulers, clips and other pretty standard stuff.
Let's start with cardboard cutting. In the photo, the lighter is thin (let's call it paper), and the darker is thick. The cross is an unnecessary detail :)
1. 4 parts of 7 cm x 13 cm — two of paper, two of cardboard.
2. 4 pieces 7 cm x 19 cm — two of paper, two of cardboard.
3. 1 piece of paper 7 cm x 19 cm
4. 1 piece of cardboard, 7 cm x 20 cm
5. 2 pieces of paper 13 cm x 19 cm
6. 2 pieces of cardboard 14 cm x 20 cm
Here are my blanks: Take the cardboard details 4 and 6 and stick them on the pieces of fleece. Put the workpiece on one of the fabrics and cut out a rectangle with a small allowance. The edges are gently glued to the far side. This is done many times in the course of the DIY. The blank for the outer part of the box is ready, you can make any decor, if its attachment requires some fixing at the back side. Now take paper parts 1, 2, and 5.
Place them on fleece as pictured, and glue to it. Fix it with the tape. And cut out of fleece. Wrap with fabric like the last time. Yoг can also stitch along the fold lines: Bend the sides and fix everything with the tape! Put the box aside, take the remaining parts of the cardboard. All is glued on fleece. And covered with fabric. There is an important point — do not fold fabric on short sides! Leave them free. And again, furiously glue all. First, two long details: Then short ones. Now, completely set the box aside. Take paper 3. Wrap it in cloth, this time from short sides, leaving long open. And stick it on the cover. Wrap the last remaining detail of the paper with cloth. It will be for the lid. I decided to attach a tag on it. Sew the tag, the detail with the tag is glued to the inner side of the lid. Now you only have to stick it all the same way, remember to insert elastic for closing. Th box is ready, you can use it! Wish you all the best!
DIYs & Tutorials on the topic