DIY on a 3D Greeting Card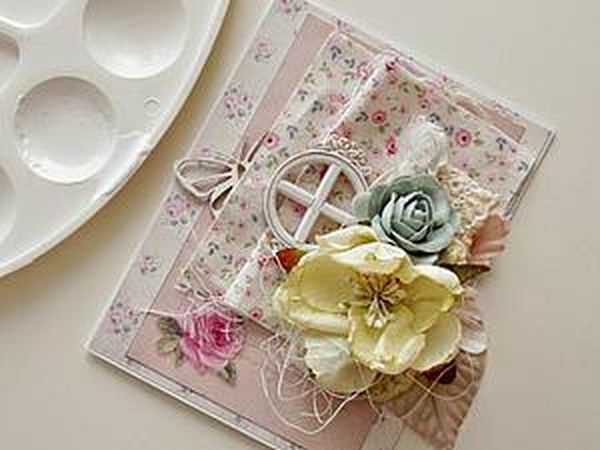 Take paper from Tilda collection and a base (the paper on which all is attached) of size 13*10 cm. Glue one on another. Next, take a piece of Tilda fabric, with lovely floral prints: they are always combined with each other! :) Then I bathe lace in tea. Sew it to the side vertically. But the braid with roses (ScrapBerries) is glued! Then glue with a hot gun. Glue a Prima Marketing window. Roll sisal in hands and glue a Pataloo flower over it with the gun. Right what I need! Prima flower on the top. Glue a leaf under the sewing. A little flower on the side. And one — under the big flower. And anything flat on the paper. Some remains from Prima flowers. One under flower, another under the lace. Spray! Finally bought the palette! So much joy :) Spray white acrylic paint on the flowers, on the window — vertically.
Apply paint with your finger on lace, flowers. My favourites for magic! The first liquid from Ranger, bright; the second, coolest, American Crafts — is my favourite! The third liquid is mat by Ranger. Use liquid glitter accents on petals. Well, that's all! The card is ready! Thank you for your attention!
DIYs & Tutorials on the topic