How to Crochet a Cozy Mat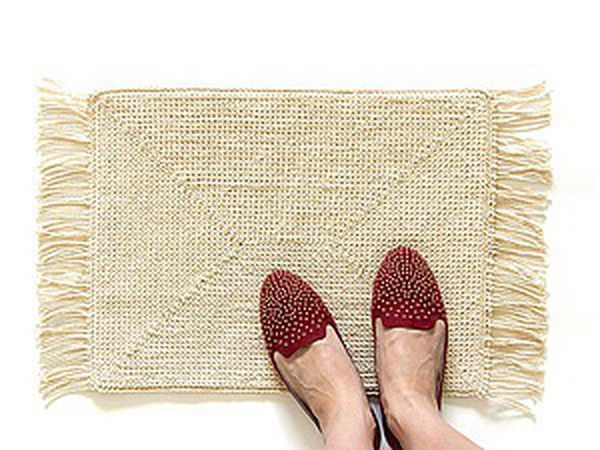 So, today we are going to crochet on canvas.
You need
- canvas
- thick thread
A mat needs anything thick, a little tough and strong. The canvas looks like this, with large holes: Begin crocheting. Pass a loop of cord through the corner. Introduce the hook into the next adjacent hole of the canvas and grab the thread. Make the second loop. And pull it through the first one. So easy :) Pass the third loop through the third hole. And extend it through the second. Thus the whole row is finished. Then turn and continue to knit the next side of the carpet. Crochet the first perimeter, turn and start the second row. Continue row by row. When the ьat is fully crocheted, make another round to process the edge of the canvas. For that, re-route the loop through the corner hole. Grab the thread. And pull it through the loop. Then through the second hole. Pass the thread through it. Get two same loops on the hook. Pass the thread through the two loops at once. Now repeat all the steps. A neat chain turns out. Crochet this way up to the end. And turn, continuing to tie the edge. Complete the perimeter, neatly hiding all the ends of yarn. Now add fringe to the short sides of the mat. For this you need thread, a rectangular piece of cardboard, a knife or scissors. Wind the thread. Cut our fringe from one side. Get a bunch of equal threads. Pass a thread through the outermost loop of the short side. Pass the free ends through the loop. Tighten and move on to the next loop and thread. So prepare fringe for both sides of the mat. This has turned into a rug. You can stop here :) And you can add colour and paint.
For painting, you need
- acrylic paint
- a few containers
- a spraying bottle and water Mix the colours you want. Using the stick, put a small amount of paint into the container, add water and mix thoroughly. Take sprayer and put it into the first container. Frame the part of the mat that you want to paint. And spray, do not hesitate :) Remove paper, look what comes out. Before moving on to the next paint, wait until this one dries out. You can speed things up with a hair dryer. Now repeat the steps with the next colour. And so with all colours. Acrylic paints must be fixed with an iron, then the rug is easily washed. You can lay it in the bathroom, hall or on a porch. Enjoy your creativity!
DIYs & Tutorials on the topic