Creating a Pincushion Box with Your Own Hands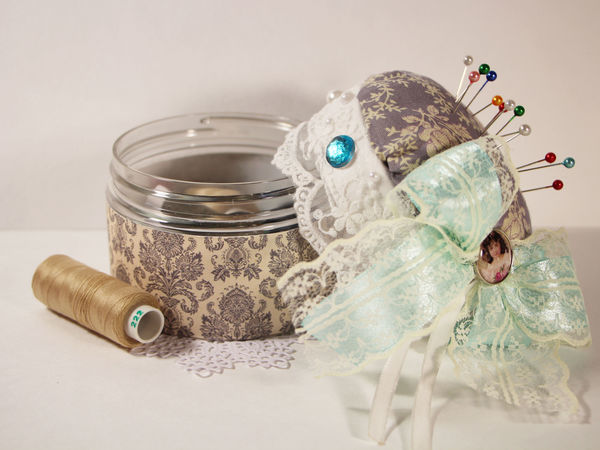 All work took me about an hour. Very quickly and easily! I made it for myself, so I did not much bother on decor and details.
Let's get started!
MATERIALS:
1. Useless box (I used from under a shampoo).
2. Decorative cardboard.
3. Beer cardboard 1-1. 5 mm (I used white to paint it).
4. Fabric.
5. Sintepon.
6. Instant and gel glue.
7. Paper scotch.
8. Line.
9. Scissors.
10. Stationery knife.
11. Decorative elements.
12. Lace.
13. Watercolour paper. Here is the empty box. First I cut out two circles of the beer cardboard and thick watercolor paper, the size of the bottom of the box. Next, measure the circumference of the box and its height.
I had 29 cm + extra 5 mm
4 cm + extra 1.5 cm Cut out a rectangle of decorative cardboard. Bend the required size for extra allowance (in our case it is 1.5 cm). By eye, cut out such teeth. I made them almost every 1.5 cm. Then take our blank from the beer cardboard and stick to the bottom of the box with the gel. After the cardboard is fixed at the bottom, take the blank and glue along the wall. After this, glue the teeth to the bottom. The next step: the watercolor blank is glued to the bottom. Next, cut a circle of the beer cardboard to the size of the lid. After — measure the length of the lid and its height.
I had 29 cm length and extra 5 mm.
I took a little more for the height as the top will have lace — 2 cm + extra 1.5 cm The process of gluing the strips of white cardboard is the same. Attach the lace and leave a little free lace at the top. Now take the blank of the beer cardboard and cut a fabric cirlce of the same size + extra 2-3 cm Take several layers of batting. I had six layers. This is what I did: When all parts are ready, take the lid, remove the tape and attach the pillow. Use instant glue for the edges. That's what came out in the end. The last stage is decorating your box. As it is transparent inside, you can decorate it with cardboard.
Well, that's all. Finally I have a pincushion.
Thank you for reading this DIY, I hope, it will be useful to someone or will inspire you to create something new.
Wish you creative success!
DIYs & Tutorials on the topic