Creating Rainbow Silk Beads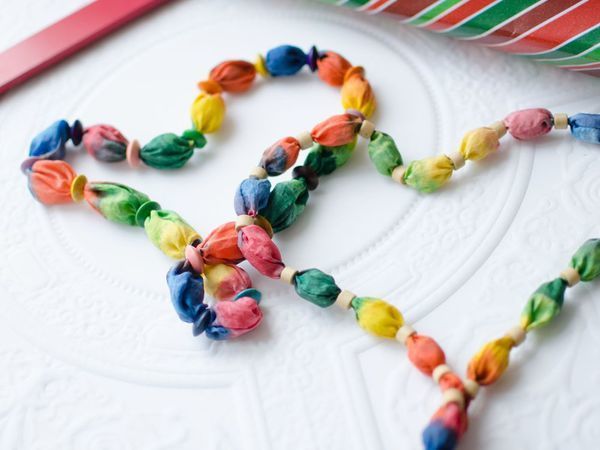 Today I decided to share with you a DIY. This simple master class will be a pleasant pastime for creativity, and, I hope, the result will not disappoint you!
Materials and tools:
1. Natural silk, size of about 25х70 cm.
2. Acrylic paint for silk.
3. Wooden frame.
4. Containers for water and paints.
5. Pins.
6. Wide flit-bruses.
7. Beads of two types: large round and small for separation with large holes.
8. Simple salt of different grinding.
9. Iron, cotton cloth.
10. Needle, thread, scissors. Helpful advice: pbefore painting, silk must be washed in soapy water to wash off the protective layer, otherwise paint will not spread on it.
Description
1. Fasten the silk on the frame. Ensure that the pins did not locate against each other in order to avoid sagging. The fabric should be taut.
Pick the colours and pour in the containers. Freely paint the surface with stripes alternating colours. Try to make the stripes slightly overlap each other. Work confidently, do not letting the paint dry quickly. 2. Apply salt crystals on the silk. Make sure that the fabric is still wet, otherwise the salt will not give a beautiful pattern. 3. After drying, brush off the salt crystals. Remove the silk from the frame. 4. Fix the paints ironing in the mode for cotton through a dry piece cotton cloth for 5-10 minutes. After carefully fixing the colours, silk should be carefully washed in warm water..
5. Pre-think of the size of future beads and cut strips for them with scissors or tear them along the entire length of the silk, not forgetting about the seam allowance. I did two strips for two necklaces. 6. Fold the segment in half lengthwise. Sew on the sewing machine or by hand. Patiently turn the resulting "tube" outside in. 7. Fasten one end with a separation bead. Take a large bead and pass it inside, next a separating bead. Alternate until you fill the pipe of the required length.
You can use beads of different materials: glass, wood, stone, ceramics or plastic. In this master class, I used wooden beads, due to their small weight and low price. It's important that the hole was big enough for silk to easily pass through it. 8. Join the ends and carefully sew them. Hide the seam with a separating bead adding a drop of glue.
If you for some reason don't want to mess with paints, repeat all the same with an old silk handkerchief :)
Thank you all for your attention! I hope this DIY will be useful for you! Enjoy your creativity! The master class was made by me for a book Gifts in collaboration with E. Pavlova, slightly revised and expanded.
DIYs & Tutorials on the topic