Glaze Hen Jingerbread: DIY on Hand Painting with Icing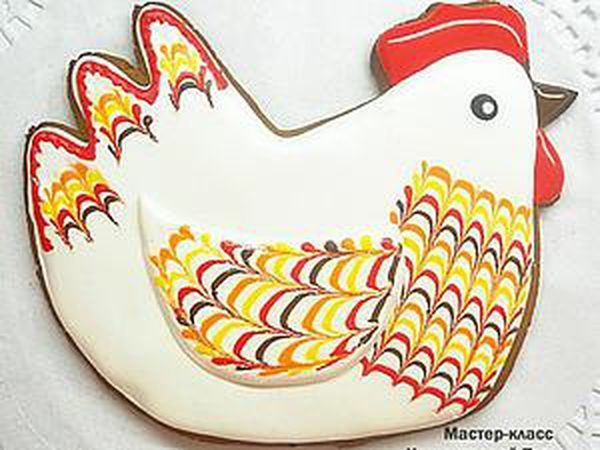 Today I will show you how to paint a gingerbread Easter hen with simple sugar and white-egg icing. This is not difficult for beginners.
It's time to get ready for Easter!
You need:
1. A cookie in the form of a hen (this can be gingerbread or sugar cookies, at your discretion). I made a paper template and used it to cut out the hen.
2. Liquid glaze of white, yellow, red, black, orange and brown colours — I use sugar and protein icing; to make the icing, you need 1 protein and about 180 g of riddled powdered sugar and a few drops of lemon juice. The consistency should be like a thick shower gel so that it didn't run when being used for thin outlines but was liquid enough to flow down from a spoon when filling the background, forming a flat surface. I also use AmeriColor food colouring.
3. Thick needle.
4. Disposable pastry bags with a 03 nozzle from Ateco or zip-bags (with cut corners). In this DIY, I useв only zip-bags, as I used many colours and was lazy to wash a bunch of nozzles!
Well, let's start! To start with, draw the basic outline white. Then gradually fill the entire space with the icing. Personally, I draw the contour, once again from the inner side, and then, starting with the top edge, gradually apply the icing with lines. If you have the right icing consistency. When you're over with the background, smooth the surface with the needle and fill the free parts. It is important to make a thick layer, then the glaze will be evenly distributed forming a flat surface.
When the main background is filled, begin to draw the details. Draw the eye. Put a small black dot, and a white drop over. It's ready. While the icing is liquid, draw the feathers. Do it quickly, as the surface begins drying out.
Draw horizontal lines of different colours on the chest. Then draw with the needle: move down across the lines from top to bottom, thus joining the lines and making a pattern. And the feathers are ready.
Now decorate the tail. Outline the contour of the feathers with red icing, then slightly blur them with the needle. Repeat the same step with the breast - draw colour lines, apply the needle. It's done.
Now let the cookie dry at least for 4-6 hours. After the surface turns into glaze, draw the wing.
To do it, using white icing, draw the outline and fill with the white glaze. After that, draw colour lines along the wing, work with the needle. That's sll, the wing is ready. Now use red icing to draw the comb and brown for the beak.
And the gingerbread hen is ready! Give it 6-8 hours to dry completely. I hope my DIY was interesting and clear. I will answer all your questions with pleasure.
Yours,
Tatiana Koshantayeva
DIYs & Tutorials on the topic