Embroidered Easter Eggs DIY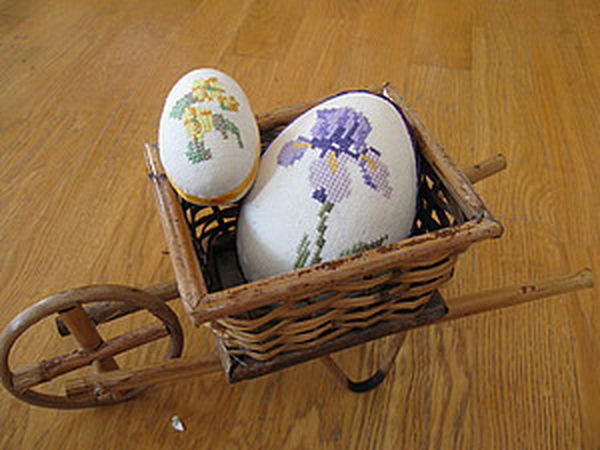 Hello!
I have long wanted to make this tutorial the idea for which I borrowed from my sister. There is much time until the end of the Lent, so you can have time to decorate a couple of eggs.
You need:
1. Foam eggs of different size - I like large ones.
2.Scheme of embroidery, better of the size of the eggs - usually with spring plot - crocuses, daffodils, adorable rabbits, my client ask for irises.
3.Scissors with rounded ends - the inside should Be no matter what!
4. Canvas - I love the smooth fabric "without squares with holes"; if the embroiderer is a beginner - better to take canvas on which the squares are visible.
5. Embroidery floss according to the scheme.
6. Threads for stitching the halves of eggs together.
7. Soutache cord or satin ribbon.
8. Metal board (serrated knives from IKEA).
9. Hoop of the size of the embroidery.
So, let's start.
First, prepare the eggs. Saw them in half. Like this. Or like that: Get the halves. Embroider the desired pattern. Hollow and pull out foam from the inside of a cut side and pull on the embroidery. Try to put the excess of fabric in the hollow. Embroider and pull on the second half. Tightly fix the halves together and sew them. Put soutache or a satin ribbon over the seam and sew or glue it. NOTE! The denser the halves are joined, the smoother the soutachу will be. If you want to hang the egg, then begin to lay the soutache from the top and decorate the junction with a bow, if the egg should stand, the soutache junction should be at the bottom. Thank you for your attention!
DIYs & Tutorials on the topic