How to Make a Copper Jewellery Set for Ivan Kupala Night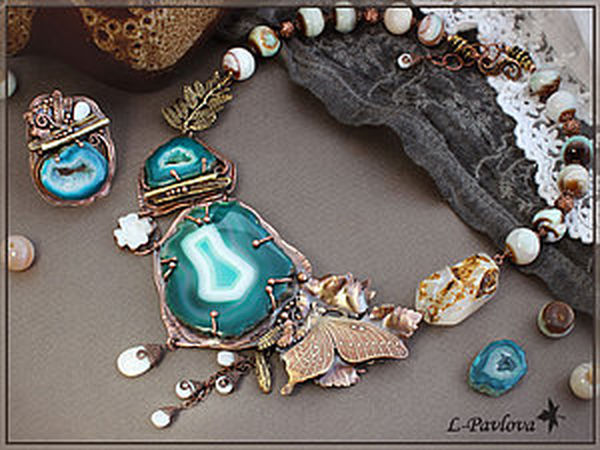 I want to share a small photo report about the main stages of creating my new set of copper jewellery — Ivan Kupala Night. Many people are surprised that a woman is a metalsmith. I hope to answer some questions.
The process of creating any new item almost always begins with the selection of stones. They inspire me and define the mood of the entire work. I admit, that I made this set for myself at my taste. I have been planning to make something cool for myself for a long time :) The choice fell on a gorgeous green onyx — translucent, with colour transfers and complex form. I picked up other stones to it. They all were bought in different places and even different countries. It took me about three months. I found amazing green-blue onyxes and agate beads which matched all shades of green and brown, which in my opinion would combine them with copper, the base of the jewellery. The butterfly expresses my mood here :)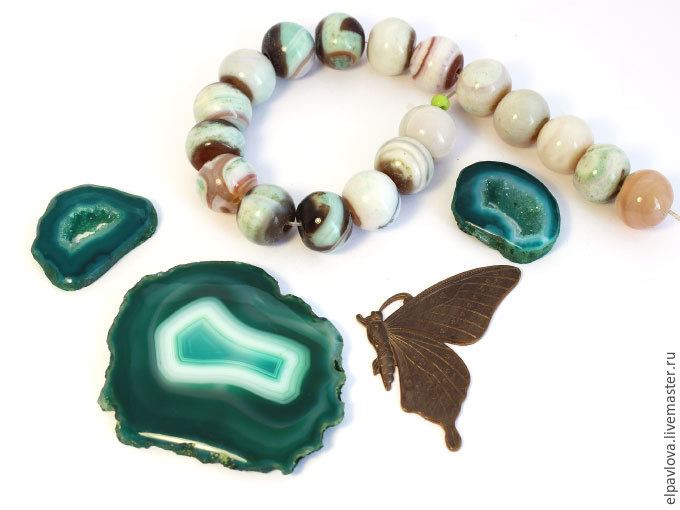 In the process of composing the central part of the necklace I added new details: a large agate bead by Anna Tchernykh and pearl drops not processed from one side.
The theme of decoration was a Slavic celebration of the summer solstice — Ivan Kupala — a night when miracles happen and wishes come true. The only time in a year when fern is in blossom... Girls tell fortunes by dropping a wreath in water, wondering for a loved one. Flames of fire and night greens of the forest ponds.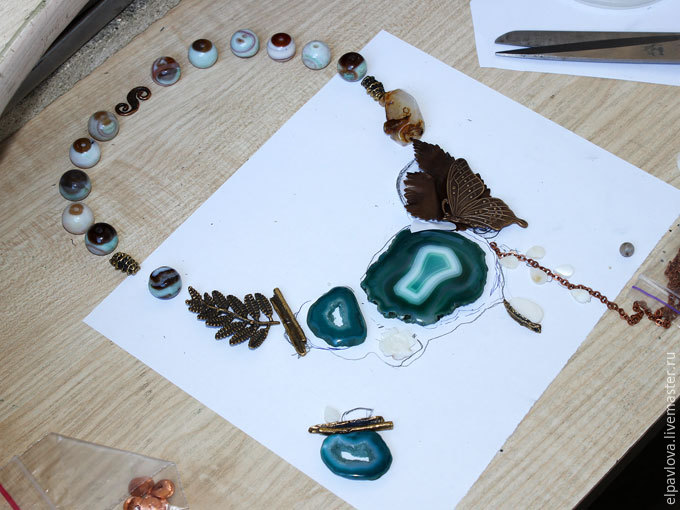 In addition to the stones and findings, I used:
- copper wire
- copper and phosphorous solder
- solution for sketching
And a great set of tools:
- metal scissors
- jewelry fret-saw
- sandpaper
- hammers
- needle files
- file
- drilling machine with a set of drills and various nozzles
- two torches
- diagonal cutting pliers
- bent nose pliers
- round-nose pliers
- pliers
- hand vice
- mandrel
- tweezers for soldering
- stamps and punches
- citric acid bleach solution
- jeweller's bench
- anvil
And then, as I say, a matter of work comes — much work — cutting, forging, grinding, sawing, embossing, soldering, mounting, polishing, blackening and polishing again. But let's put it all in order.
The main parts for the stones bases were cut out of a sheet of copper, fitted and sandpapered.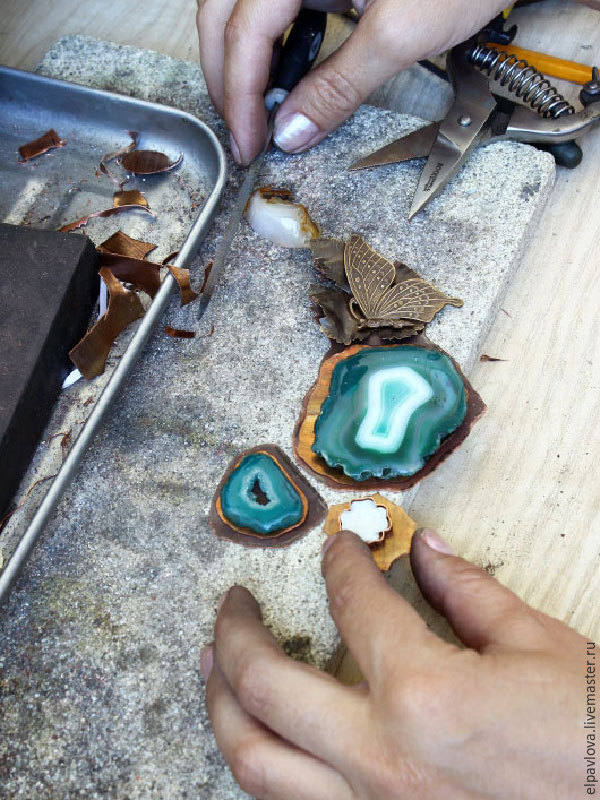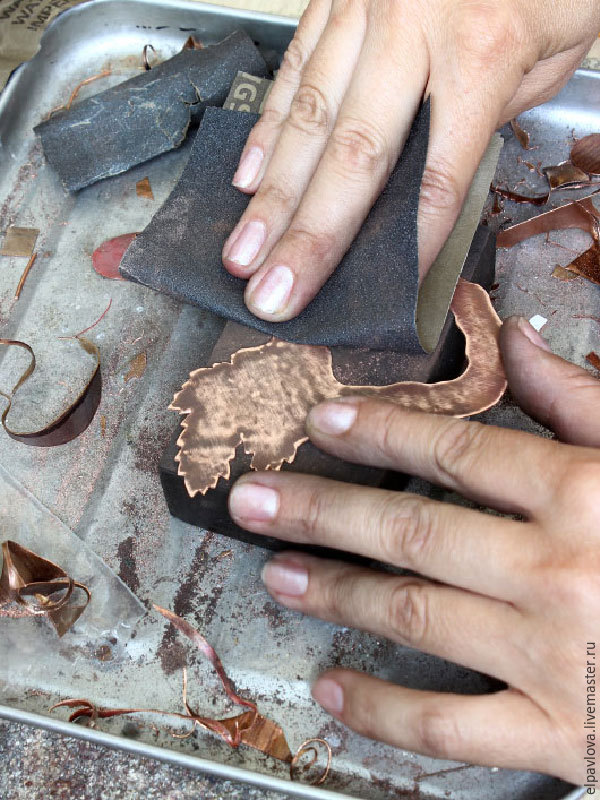 Then soldering and polishing again.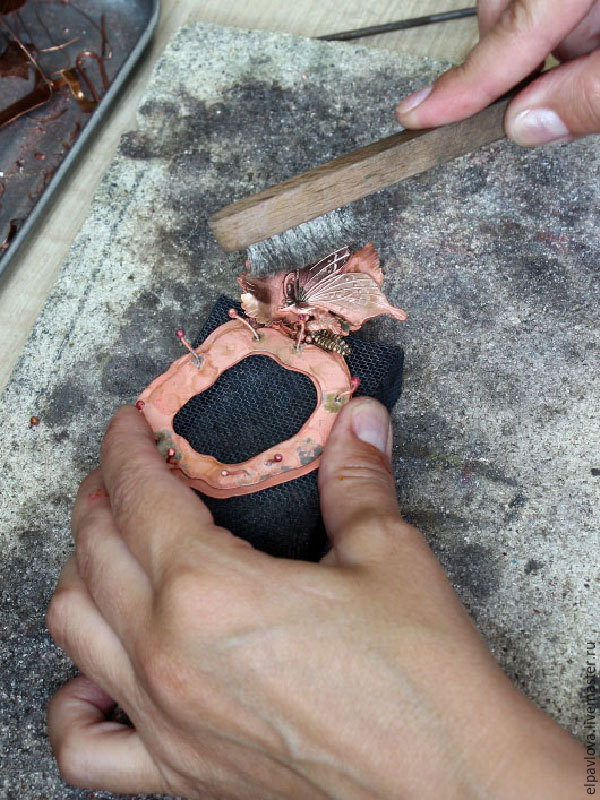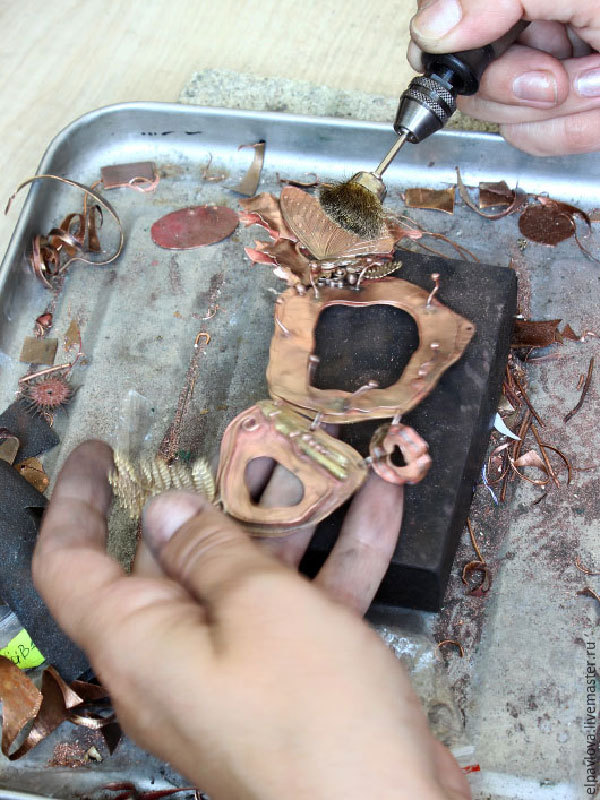 The ring was made the same way.  I did not want to make a blind frame for the stones but as open as possible, to emphasize the complexity of unprocessed edges. I drilled a hole inside the bases so as not to suppress the colour of stones to let the light pass through.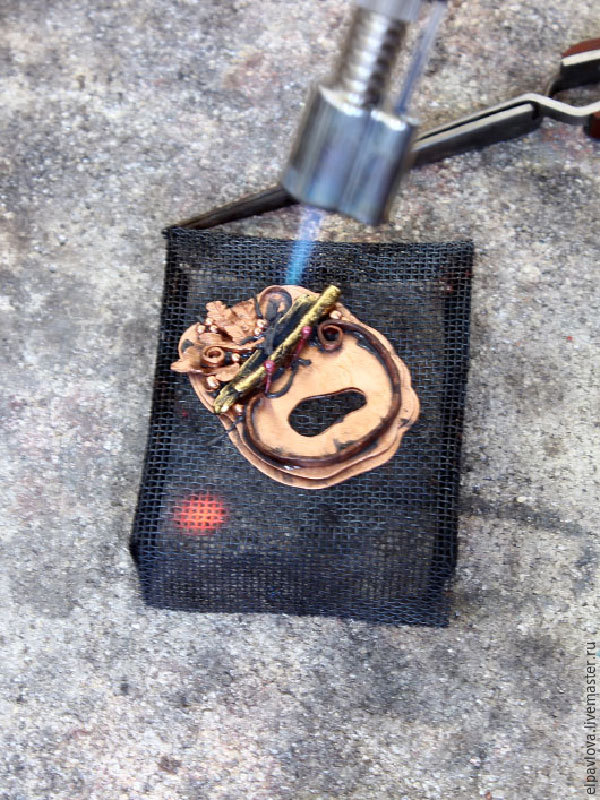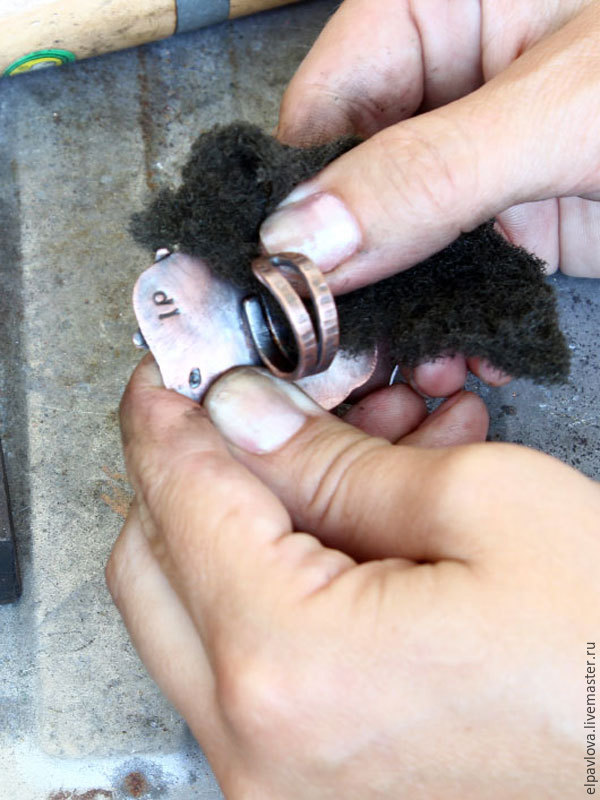 All my items are signed with a stamp with my signature on the back of a ring and a necklace.
After final polishing and assembly of the parts I fix the gemstones. I always use jewelry glue.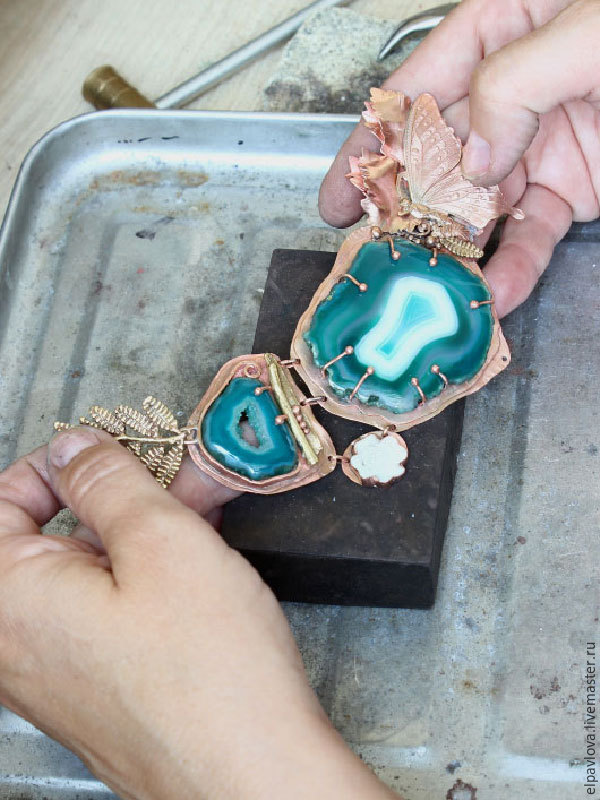 And again, grinding and polishing.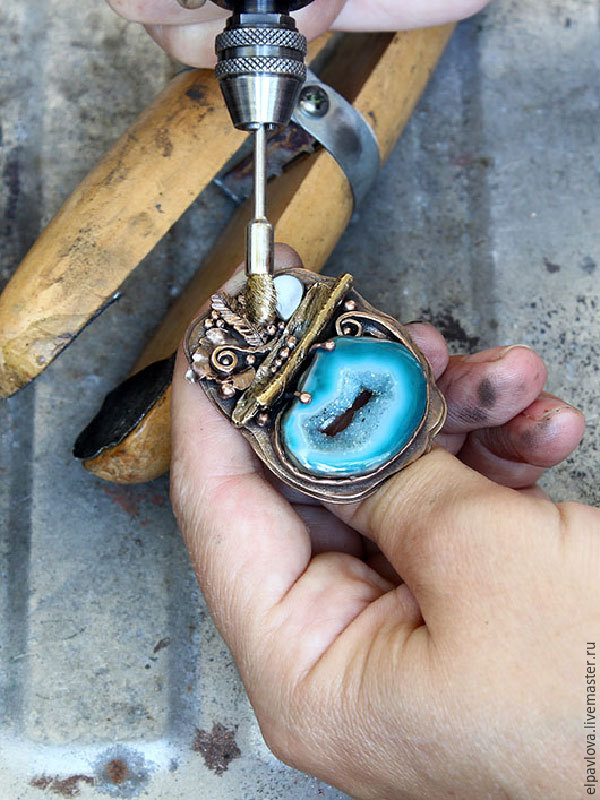 The last important step is the assembly of the whole necklace. Having tried different sequences of stones and furniture, I finally fix one.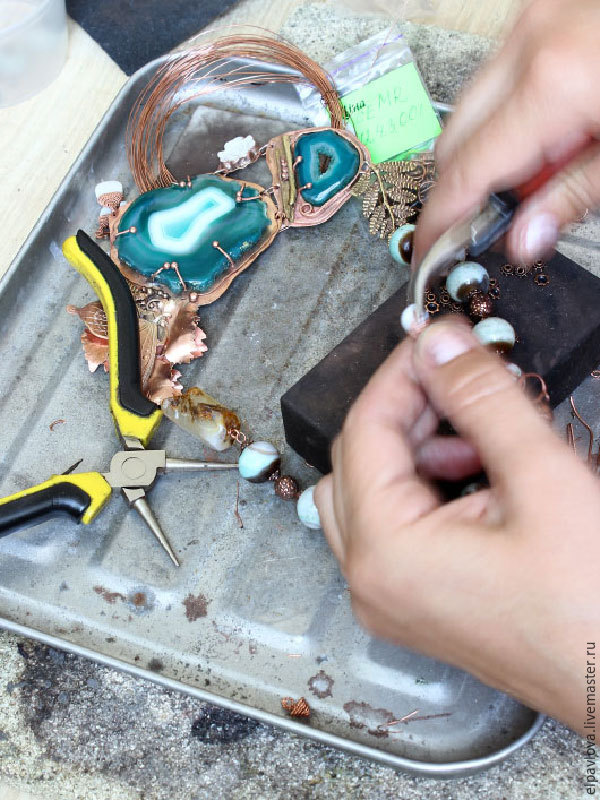 And of course, grinding and polishing of all components and parts once again. Then follow blacking and polishing.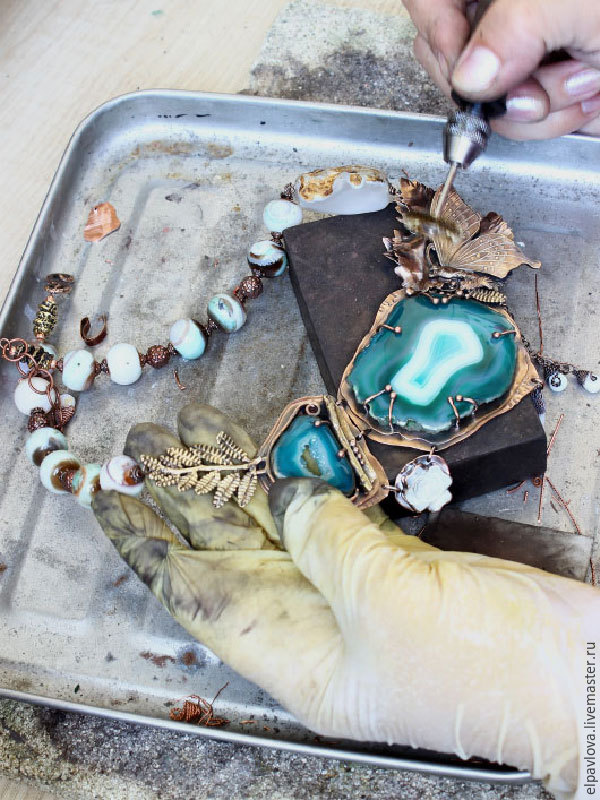 The next to last step — cleaning the finished jewellery. Thoroughly wash with brush and baby soap and wet with a paper towel. After that apply natural wax.
The set is ready. Wait for a sunny morning and take photos.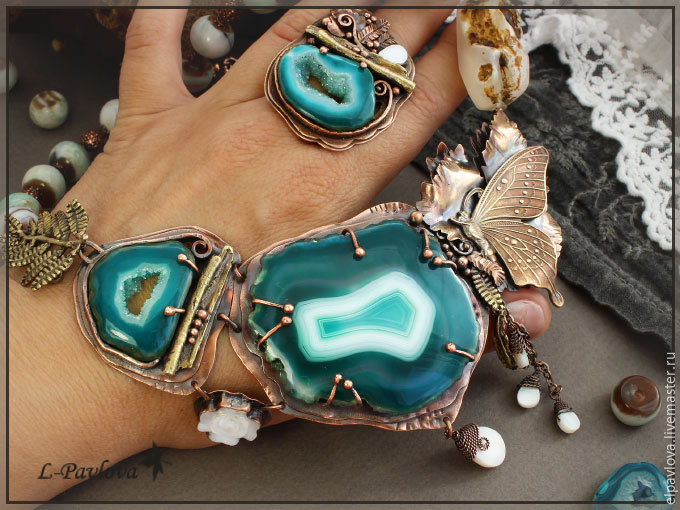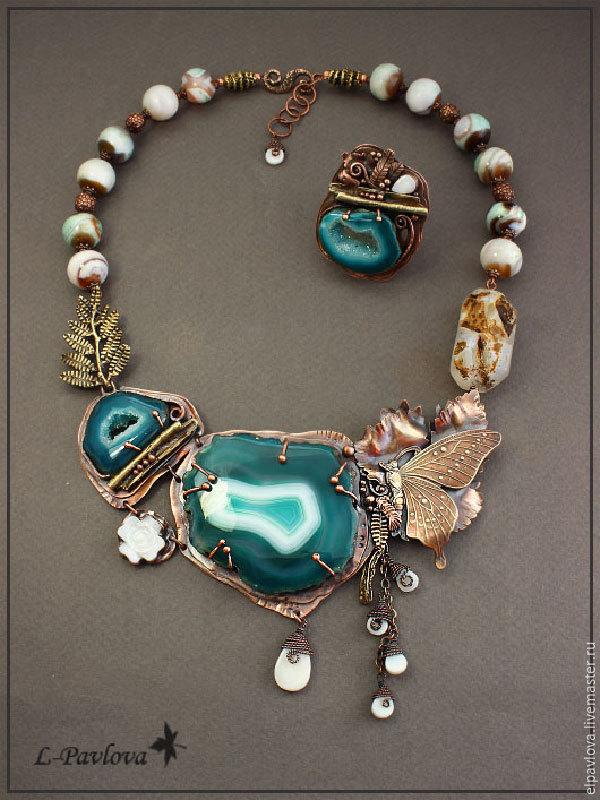 Thank you for your time and interest in my work!
DIYs & Tutorials on the topic