How to Make a Gift Box of Corrugated Cardboard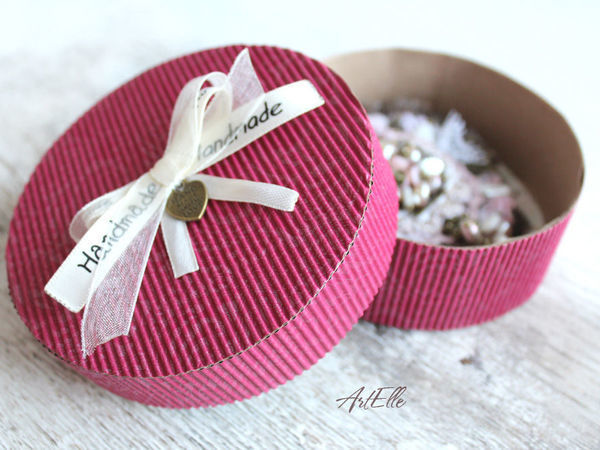 For any holiday, one wants to present a gift to share love and good mood with nearest and dearest . But we are not always able to make gifts with our own hands. But we can pack a gift in a handmade box, thus sharing our true feelings.
I offer a simple way to make very beautiful boxes made of corrugated cardboard with minimal but elegant decor.
You need:
- corrugated cardboard with a picture
- kraft paper
- ruler
- compasses
- glue, it is better to take a transparent glue, PVA should not be used
- scissors
- decoration with ribbons and medallions with the inscription 'handmade' I was making a round packaging for brooches. Measure the diameter of each brooch. For a brooch had enough room in the box, make the box 1 cm wider.
Draw circles of the size you need from the back side of the cardboard with the compasses.
Make 2 circles for each box. The circle for the lid should be slightly larger, so the diameter of this circle should be 2 mm longer. Apply the circles on kraft paper and outline them with a pencil. Cut out the circles from the kraft paper 1.5-2 cm wider and make cut-outs in them to fold them easier. Glue the cardboard circles to the circles of the appropriate size from kraft paper. You need strips of corrugated cardboard for the sides of the boxes. Their length is measured from the well-known formula L=2P*r, where L is length, n is the P=3.14, r is the radius of the circle.
That is, if the radius was 4.9 cm, the length is 30,77. Measured this length plus 0.7-1 cm for gluing the edges to each other. The width of the bottom is 3-3,5 cm, for the top — 2,5. Fold the cut petals of the kraft paper and apply glue on them. Glue the corrugated cardboard end-to-end. To make the inside the box beautiful too, the inner sides also need to be covered with kraft paper. Cut strips of the desired length and glue them to the inside. Our boxes are almost ready! To give the boxes a finished look, make a decoration on the top. I have a ribbon for decoration and a pendant with the inscription 'handmade'. But you can use a satin ribbon or organza. It will look festive and elegant! Now the brooches are packed in festive boxes.
Try to make a box, and your gift will get a special charm!
Waiting for your comments, criticism and suggestions.
Enjoy your creativity!
DIYs & Tutorials on the topic