Decorating Bags with Bulky Flexible Ornament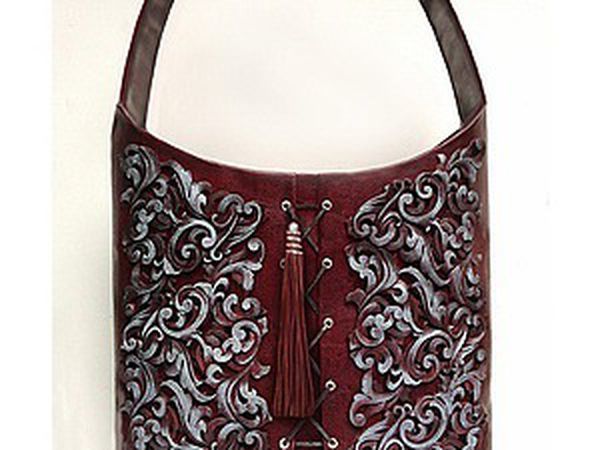 In this tutorial I want to show you a simple way of decorating bags, but due to complex elements of the ornament you will get a beautiful, eye-catching thing. Ornaments are made from polyurethane — a material that has high wear resistance, tensile strength. We use this material every day: shoe soles, tires and many, many other things to which we are accustomed.
I used this decor because, for all its elegance, it is sturdy, easily adjusts to the curves on a bag, easily painted and firmly keeps any coating, and I can easily wash it.
For work you need:
- acrylic paint: carbon black, red dark, cobalt blue light
- decorative acrylic paint — silver
- fur or velour paint roller
- soft brushes of different thickness, 2 pcs
- gloves
- Moment glue for shoes
- flexible polyurethane ornaments — 6 pcs (quantity depends on the bags)
- bag or it's parts 1. Paint the ornaments. Select the paint to match the base to which the ornaments will be glued. In order to get the shade of Marsala, I mixed black, blue and red. Apply it on the inner surface of the curves of the ornaments with a small brush and leave to dry. 2. When all the inner curves are painted, apply the first layer onto the ornament with a softer and larger brush. Try to move in the direction of the curves and avoid stains. Iit's better to put a thinner layer rather than to get paint stains. Move the brush softly, as if dancing in the rhythm of waltz :) Then dry again. 3. And apply the second layer similarly. See the pieces from all sides and examine for the presence of unpainted spots. 4. When the ornaments are dry, take the metallic acrylic paint, apply it on the little dry paint roller — just roll it along a board to spread paint evenly on it. Do not soak the entire roller, thin layer of paint will be enough. Then a quick straight movements of the roller over the surface of the ornaments, it's not like waltz with a brush, more like rock-n-roll :) 5. And finally, our beautiful ornaments are glued to the bag. For better adhesion, I pressed ornaments, put a soft piece of cloth and a board over them. Here I placed the ornament in a linear way, vertically, 3 pieces on each side. In this case, the width of my bag was 38 cm (between the side seams), the height is 37 cm. To fix the ornaments additionally, one can stitch them with threads along the edges of inner curves, then paint the threads together with the details.
Combination of paints, varnishes and powders provides a variety of effects. Thank you for your attention. Happy to answer your questions.
DIYs & Tutorials on the topic