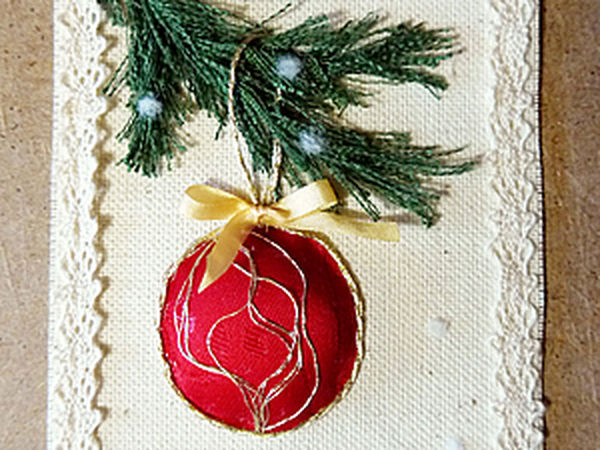 Hi everyone!
I want to tell you how I make greeting cards for New Year. When sending a parcel, I wanted to wish a good man with a happy New Year. I needed a card, but usual store cards were all identical and faceless, but I wanted a postcard with a soul, even not quite professional-looking. I had never made postcards before (well, except when I was a child) and wanted something special. I love textiles, all sorts of ribbons and clothes, and so the card should have been textile. I liked the result, it turned out really homey, and I decided to share it, maybe someone will want it too.
So, let's start.
You need:
1. A piece of green flax (3cm width and 20-30 cm length)
2. Bright fabric for a ball
3. Fabric for base (I used a 9x14 cm piece of double-stranded cloth)
4. Watercolor paper for a back side of the postcard
5. Instant glue (Moment or titanium), scissors, ruler, stationary knife
6. Silk ribbon, metallic floss for decorations of the ball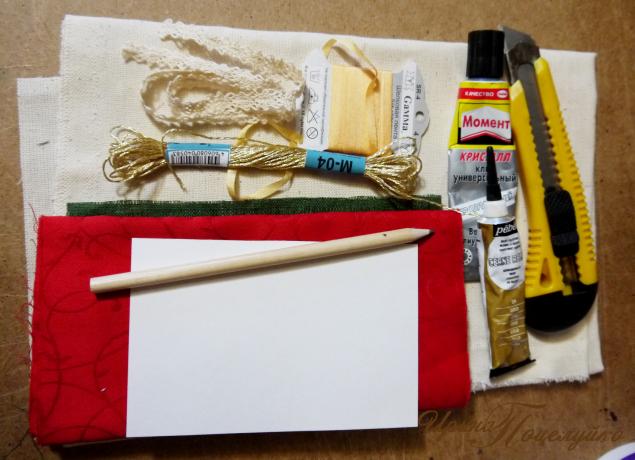 1. Cut a 9x14 cm piece of the watercolor paper.
2. Cut out a piece of the double-stranded cloth with a little overlap on the edges (about 9,2x14,2 cm), slightly fray them (the excess fabric is cut off after gluing the fabric to the paper).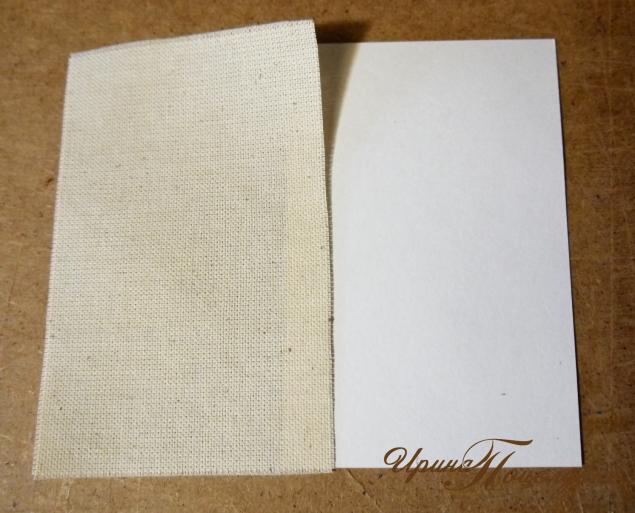 3. Take a strip of green flax, glue its one side and, when it dries out, fray 2-2.5 cm of its other side.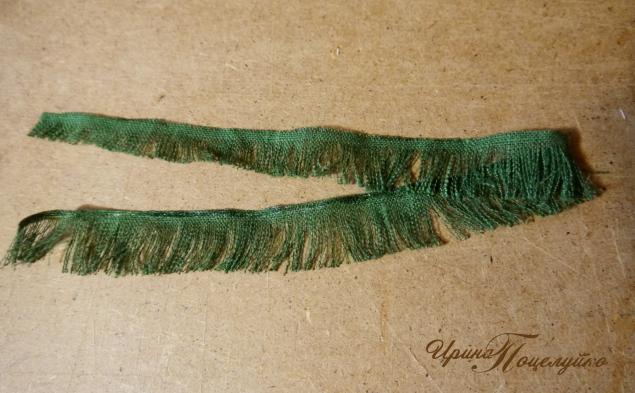 4. Glue the strip and frays and twists into a spiral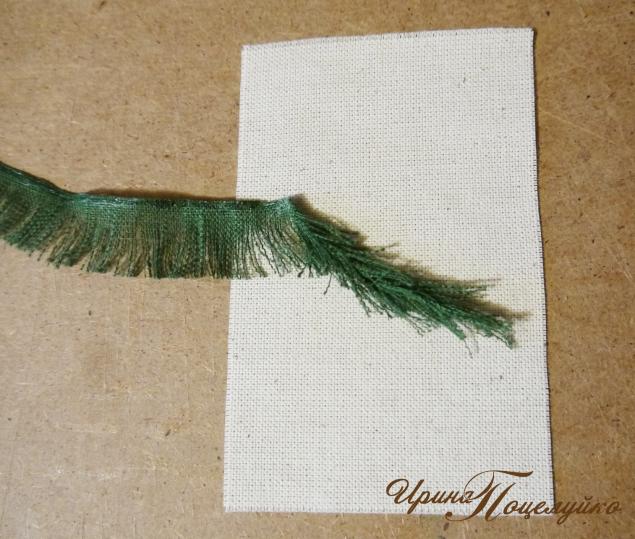 5. Make several fir tree sprigs of different sizes. Determin their size by the place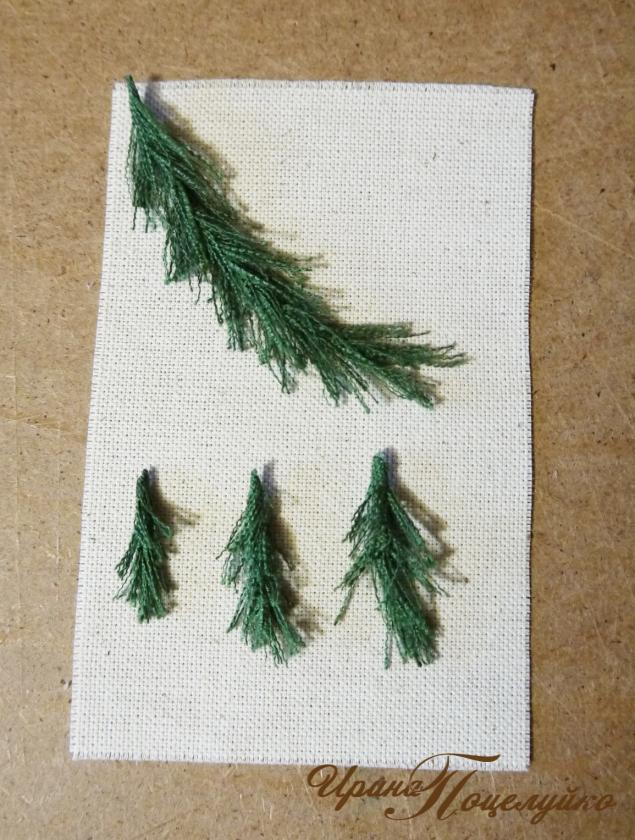 6. Glued them to the base.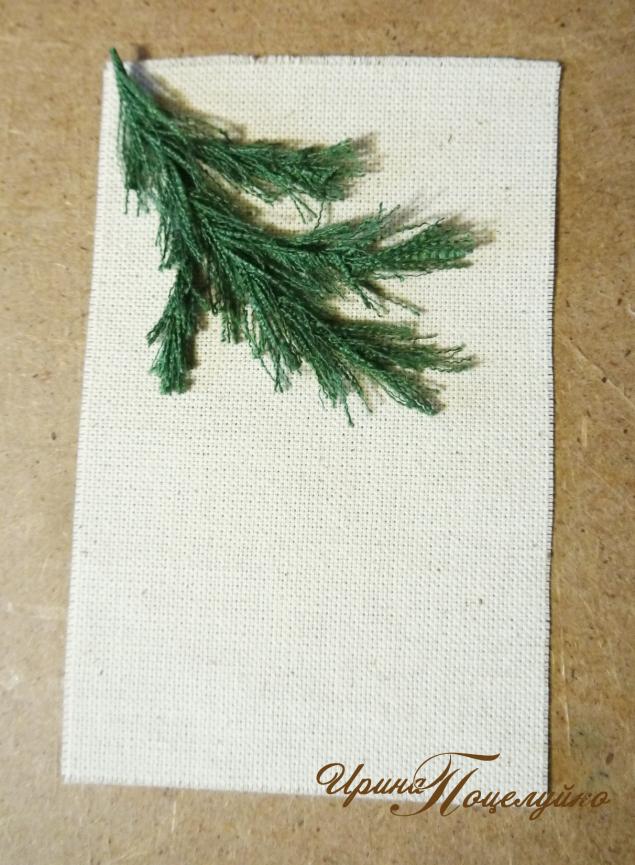 7. Cut a circle with a diameter of 3-4 cm from the bright fabric. Glue the edges, put a piece of cotton wool or sliver in the center. Carefully glue it, shaping it into a convex ball.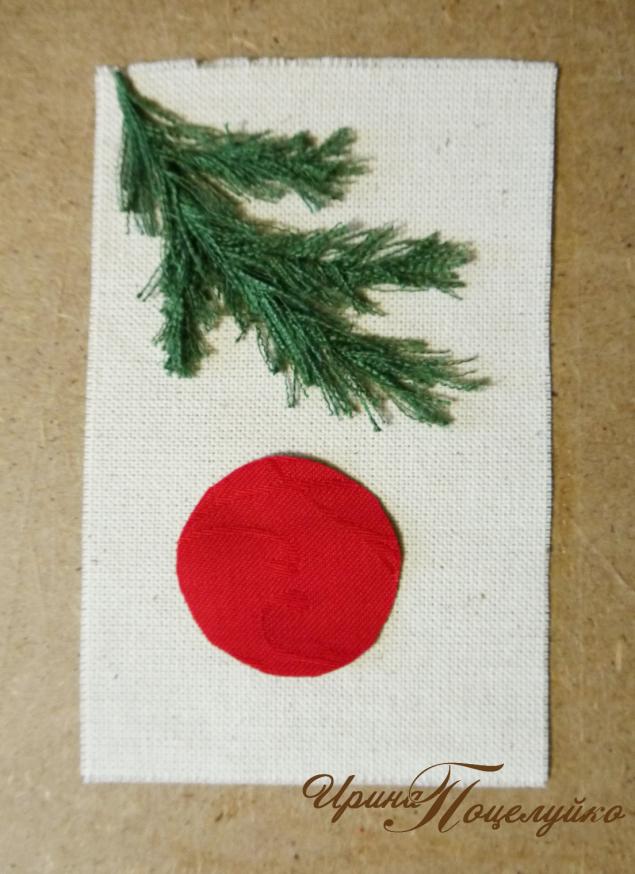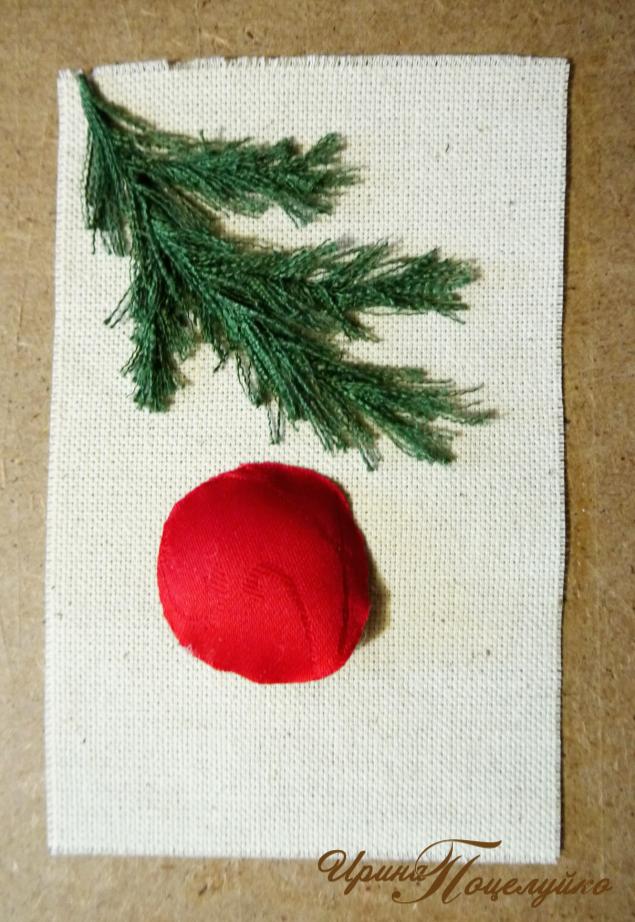 8. Such a ball should come out. Now decorate it - I frayed the strands of floss and carefully glued them. I also glued floss to the edges and made a loop from the end of a thread.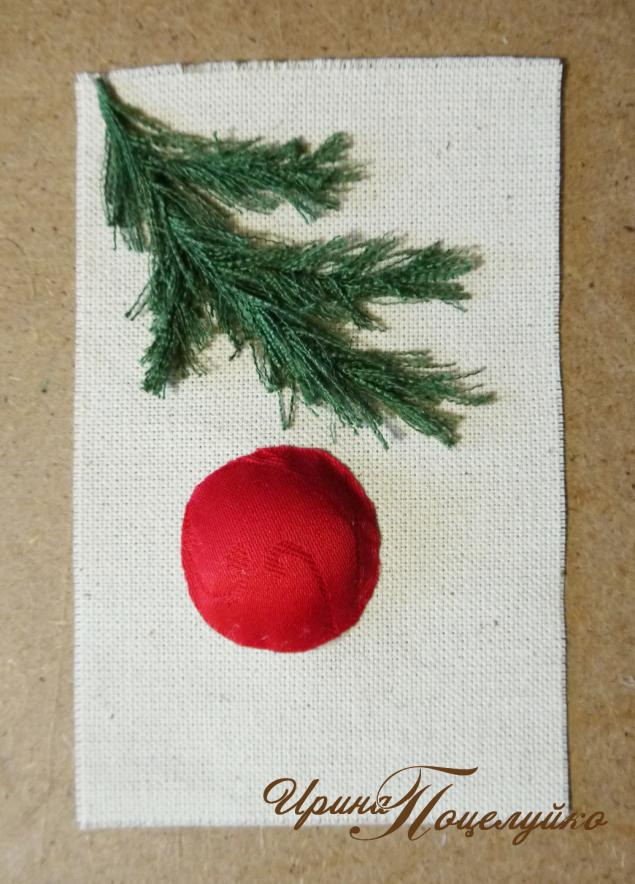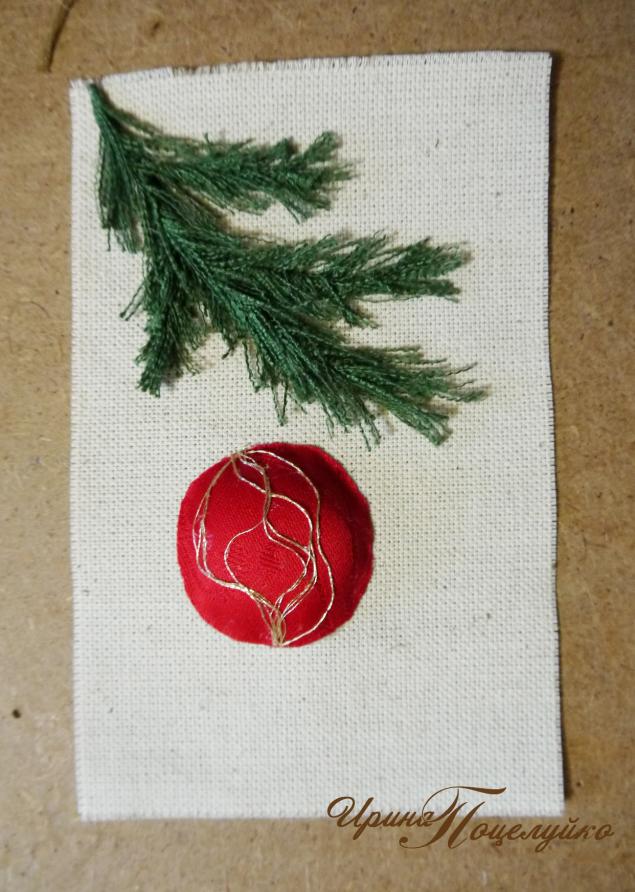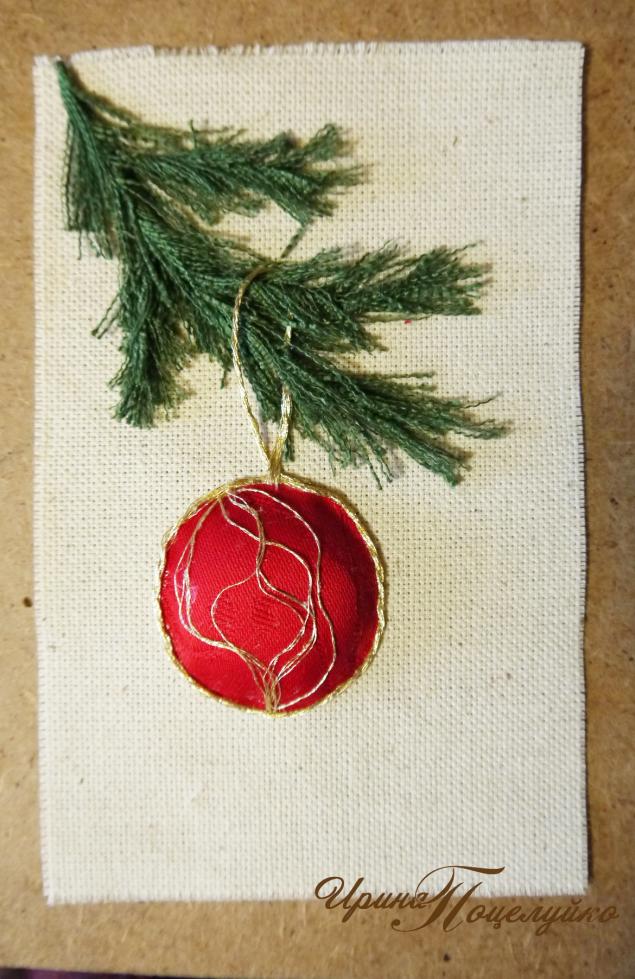 9. Glued a little bow of silk ribbon between the threads and the ball. Then glued the whole base to the paper.
10. Glue the lace along the edge. And stitched it on the machine to surely fix it.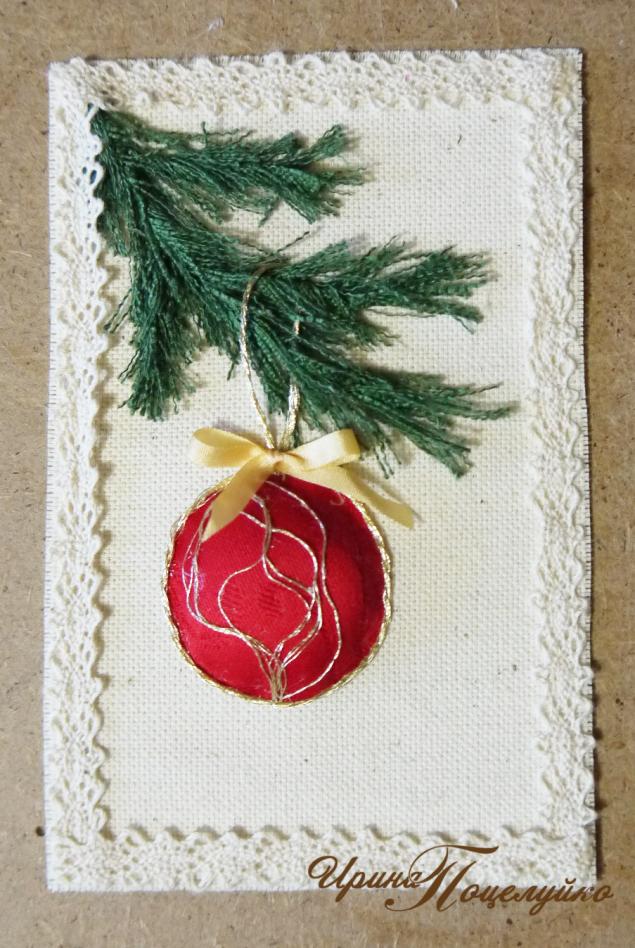 11. For snow: finely chop a piece of cotton wool or white wool and put on a drop of glue.
Such a textile convex card shoud turn out: