Embroidering a Basket of Heather with Seed Beads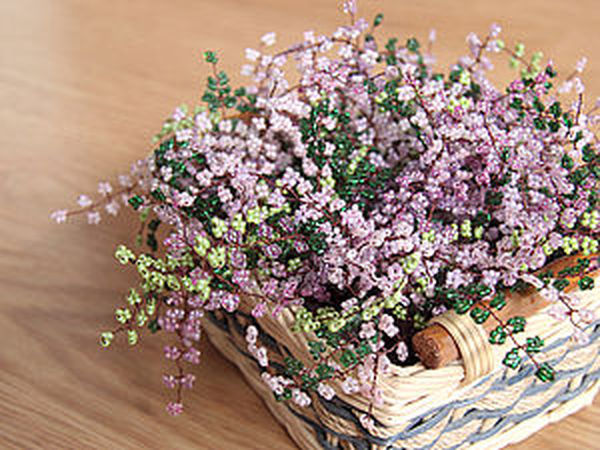 Good day, dear crafstmen and visitors of Livemaster!
Today I want to show you how you can easily and fairly quickly, even for a person not engaged in beading, to make a basket of heather, which may either be a gift, or to serve as a nice addition to any children's game. The technique is primitive, but the result is pretty spectacular.
First you need to gather all necessary materials
- 0.3-0.4 mm copper wire (preferably brown or green - to give the natural appearance of the bushes)
- wire cutters
- beads of beautiful colours
- basket in which your heather will be planted (the size depends on your preferences)
- I used 3 shades of green and 7 shades of pink, lilac and purple colours (the more colours are used in the work, the richer, more interesting the work turns up) In this tutorial I decided to use less colours to create a small fall bouquet. Pour the beads on a nap-free cloth (it's more convenient to work when beads do not roll out) and pick them on the wire, not cutting it from the bobbin.
When the wire reaches the length of 20 cm, have no doubt that it will be enough for 2-3 sprigs. Leave the end of the wire free — this distance will be approximately equal to the length of the proposed sprig without leaves — then twists a loop with 5 beads with a decisive movement. Then leave a short distance from the loop (it will determine the arrangement of leaves on the sprig) and also twist one more loop with 5 beads. Continue twisting as many loops as you need, and their number should be odd (7 leaves for one sprig was enough for me, or 21 loop per each sprig in the basket). Cut the wire, leaving equal ends. Fold one blank placing one loop at the top (because it is unpaired). Hold the central loop with your left hand and twist the 2 halves in one sprig. Twist up to the bottom. Twist the required number of sprigs. Then twist several pieces together and give the sprigs a more natural look — bend and turn them in different directions.
My work on the autumn bouquet is finished unless O could tape them to hide the strange silver colour... well, I did not have another wire at hand...) For a whole basket, you need to make enough sprigs, then put a piece of foam or synthetic sponge on the bottom of the baske (if it gives a wrong colour through the flowers, paint it with acrylic) and stick the sprigs into this base.
Give it "roughness", lay and bend it the way you like. It's much easier to wash it than a beaded bonsai - just half a minute for pulling out, washing under water, drying and then sticking back.
:)
I hope my DIY will be useful. Create with pleasure!
DIYs & Tutorials on the topic