Drawn Thread Work: Learning Easy Patterns
Difficulty: Medium
Time: 1 hour
Merezhka, or drawn needle work is not so difficult as it may seem. One could use the simplest stitches but the effect would surpass all expectations.
For embroidery, you could use any kind of interlacing linen cloth. The thicker the threads are, the easier it is to embroider. By the example of my item, even a soft coarse hempen sacking could be used for embroidery, it should be properly washed beforehand. I like this textured fabric. To be honest, this was a sack I hadn't used for ages. It used to serve as a potato bag, then as a post package and now it's found a new life as an item I've planned to make.
To begin with, find an appropriate cloth. Yes, it's easier to embroider using a lace-frame. Square frames would be even better. Actually, this helps if you embroider large patterns. When you deal with fine patterns, do without them.
Here I used triple mouline threads. All in all, the choice of threads depends on the cloth you're going to use and the result you want to achieve.
For the first pattern, draw (which is remove) threads per 1 cm. I dragged 8 threads, but you could drag 10-12 or even more.
Column Pattern
I make columns of 2 threads, but if you wish, there may be 3, 4 or even 5 threads. Actually, this seam may have a greater number of threads, but I would use this to make the next pattern with the columns very close to each other.
Embroidery starts from the left with a blanket stitch.
Step 1. Insert the needle and throw it beyond the cluster of threads from right to left.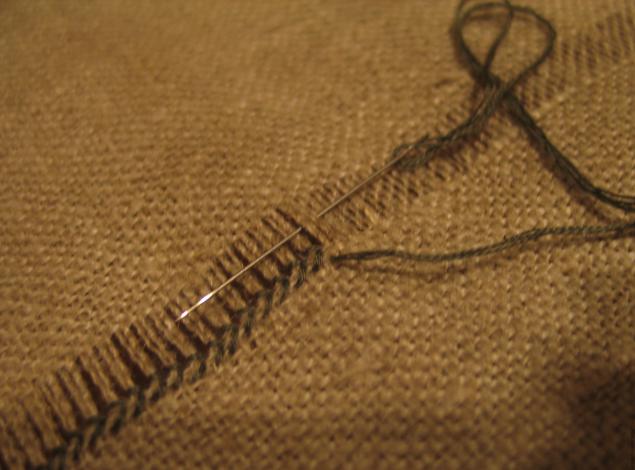 Step 2. The needle is passed beyond the clustered threads and inserted through cloth from the backside at the distance of 2-3 threads.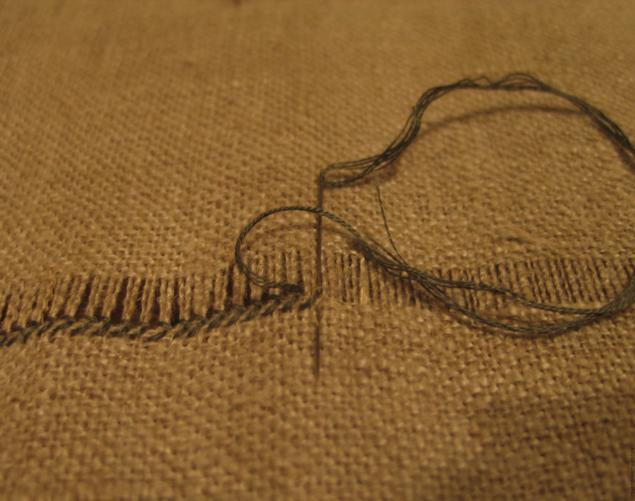 You get a knot; when such repeated knots made in two steps create a regular pattern, a combed strand appears.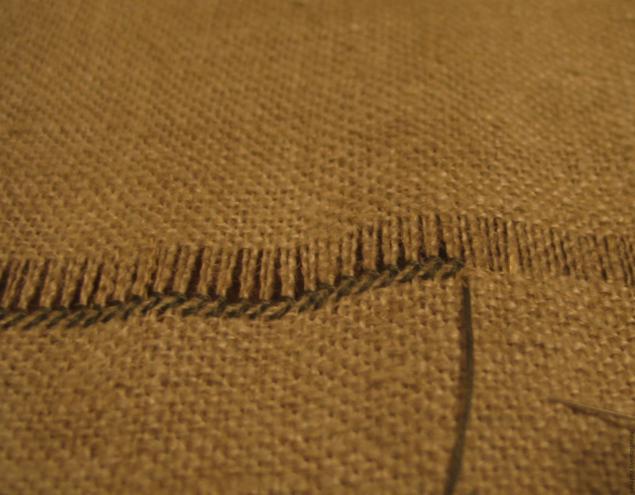 Turn over the piece of cloth and make one blanket stitch on the other side following the pattern.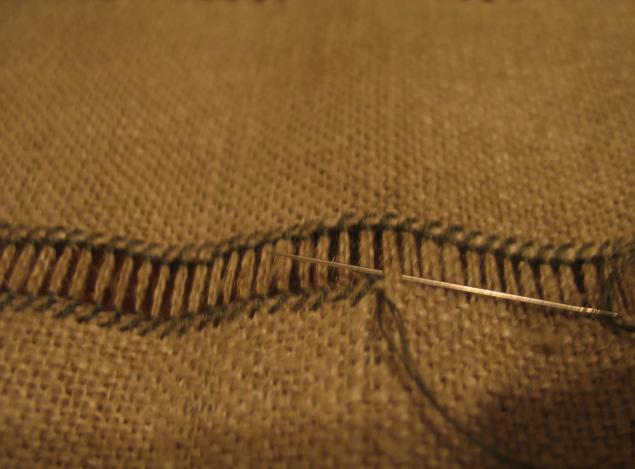 We repeat both preceding steps, from another side this time.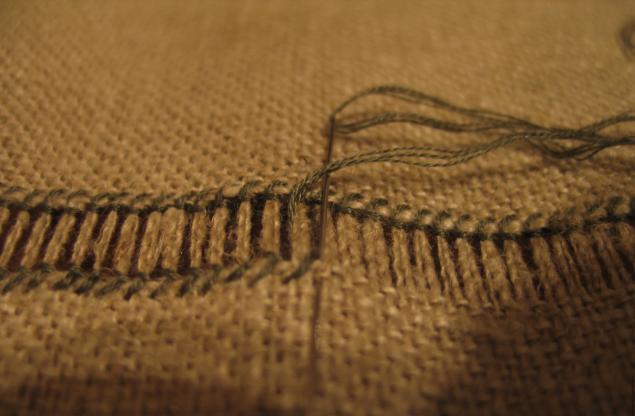 The Column pattern may be used both separately and for decorating.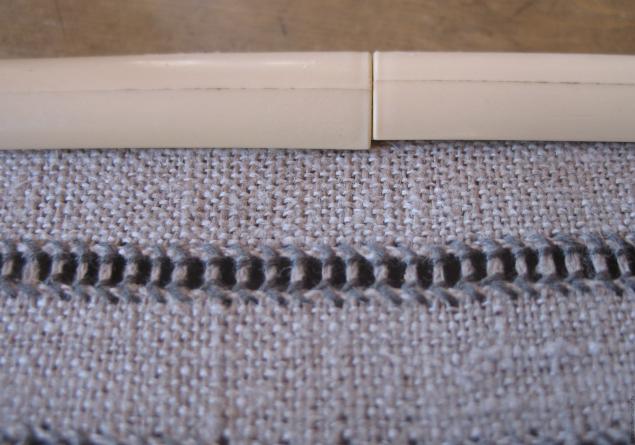 Also one could pass a satin ribbon or any decorative thread through.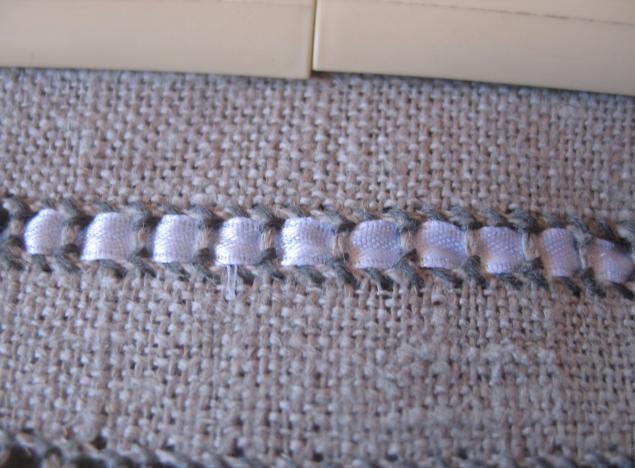 Similarly to the Column stitch, a Hemstitch is applied.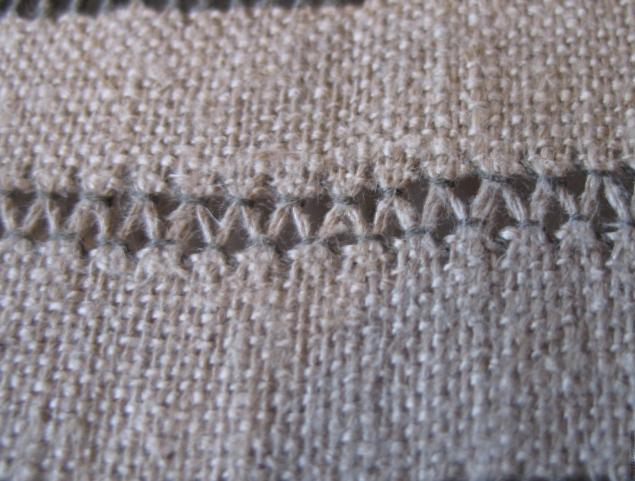 The Column pattern is often used for making other patterns. I'll describe them later.
Thank you for your attention! This is my first experience of writing a tutorial, so I'm waiting for your suggestions and recommendations.
The second part of the tutorial is here http://www.livemaster.ru/topic/245647-vyshivka-merezhka-neskolko-prostyh-uzorov-chast2?inside=0&wf=&cp=1&vr=0
The third part of the tutorial is here http://www.livemaster.ru/topic/246737-vyshivka-merezhka-neskolko-prostyh-uzorov-chast-3?inside=0&wf=&vr=0