Poppies of Florist Crepe Paper and Candies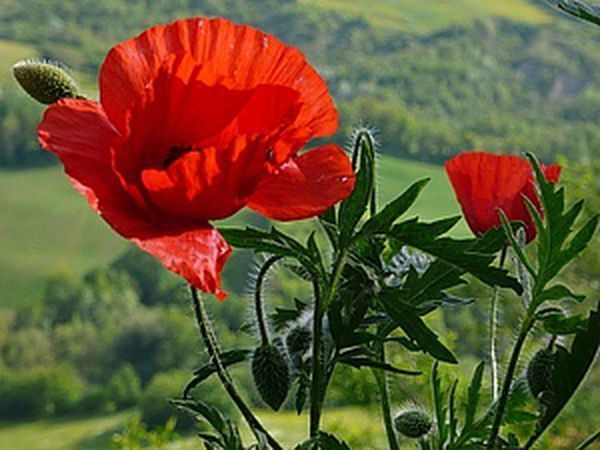 Candy bouquets are my love and joy :-)
When making a composition, I often use fresh flowers for example and inspiration. Florist crepe paper is a great material that allows you to implement almost any shape of petals in paper. So.
You need:
- florist crepe paper of red and black / green colours
- floral wire with the thickness of 1.2 mm
- tape
- atificial leaves
- chocolate Cut out pieces of paper: red ones with the width of 4-5 cm equal to one and a half fractination, black or green pieces of two fractinations. Cut and shape the petals.
Stretch the top edge of the petal much and its middle slightly, giving volume Cut the black paper into "noodles" up to the middle of the piece and shape stamens, twining them with force. Take a chocolate and press its 'tails' Wrap the chocolate in the black blank, which is the center of the flower.
Put the chocolate and wrap it up, stretching the paper. Florist crepe is tough and will hold the the chocolate without further fastening. A piece of wire is bounded on 2 or 3 cm and inserted inside a paper roll. Twist the paper around the wire; you can also tighten the stamens for a more reliable fixing. You can fix it with a thread for a greater effect. Assemble the flower.
Put a dab of hot glue on the tip of the petal and fix it on the stem. Tape the base of the flower. Take a proper leaf, if not, then cut it out of paper. Voila! Such way of fixing a chocolate allows you to easily get it out of the flower without damaging the paper decoration, and the poppy may adorn your home for some time :-)
It is quite possible to fix the petals in this flower without hot glue if you don't have it, then tie it with a thread :-)
Fixing a chocolate on a wire allows to create the desired composition.
One can increase the number of petals, garden poppies are fluffier :-)
The tape can be replaced by a narrow strip (1 cm) of crepe paper.
When reposting, please indicate the authorship :-)
One more poppy bud here http://www.livemaster.ru/topic/413601-makovyj-buton-iz-floristicheskoj-gofrirovannoj-bumagi-i-konfety? DIYs & Tutorials on the topic