In stock
Materials:

tree, natural wood

Size: height 40 cm width 31 cm depth 12 cm shoulders 10 cm other sizes to order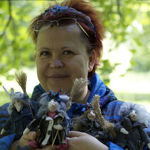 Sale of finished work.
The size of the hanger height 40cm, width 31 cm, depth 12 cm. A clothes rack for doll clothes. HANGER IN STOCK. According to Your size, you can make a hanger for clothes dolls. Hangers sold separately. In the presence of a hanger 10 see the price is 40P. In the presence of 10 pieces. On request, it is possible to manufacture a hanger of a different size.
The hanger is made of solid wood. A hanger is also made of wood and have a reduced copy of these hangers. The color of the product has a natural color. As hangers and hanger for doll clothes are made of solid, not plywood, you can paint the product in the color you want.
Clothes rack is equipped with a shelf for doll shoes.