Made to order
Production time: 2-3 months

Materials:

forged steel

Size: 90 CMB length
The size can be reduced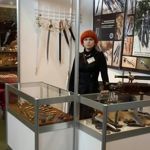 Weaponsmith
The author's Spanish navaja from the Creative Workshop of Theodore and Eugenia Alexis.The winner of the exhibition of the Blade:traditions and modernity.(2nd place)
Folding knife size 90 serosal check tameshigiri(chopping of noviikov Vara) 3 Mat (24 mm).
95 steel mshd,hard 60 HRC
Author floral ornament covers the hilt and blade(it is possible to change drawing and engraving the desired lettering).Engraved manually.
Possible brass or bone nakladki.
Leather case with perugiavia included.

How to keep
Weapons or clove oil