Creating Hummingbird Brooch from Beads. Part 1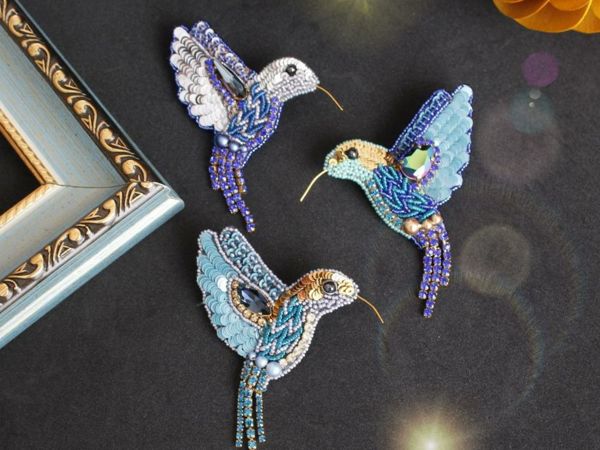 A long time ago, I published a video tutorial on beautiful hummingbird. Now it is available for you.
The difficulty mode is low, a beginner can cope. Part 1.
The more you like, the faster I will continue.
Materials:
felt for embroidery;
sequins 4 mm and 3 mm of the same colour or similar colours (for the wing);
sequins 3 mm (for head);
Miyuki beads 15/00, 2 types (for the neck and for the wing);
rhinestone chain of one or two related colours (2.5 mm thick);
Swarovski crystals in the frame, medium size (14×10, 15×7);
truncal 1.5 mm wide (bamboo or zigzag);
Swarovski pearls, 6 and 4 mm (2 pieces) or 4,5,6 mm;
droop beads for eyes or pearls 3 mm (black or haematite);
pin 2.5 cm long with a loop at the end;
threads for sewing beads and sequins;
black embroidery threads (silk, cotton);
needle for embroidery;
cardboard or thick paper for the back side (watercolour);
Japanese pin 2.5-3 cm;
genuine leather to match the brooch;
super glue;
hoops, or without them.
For those who wish, you can buy ready-made sets of materials for this tutorial.
DIYs & Tutorials on the topic