Painting Seascape with Oil Paints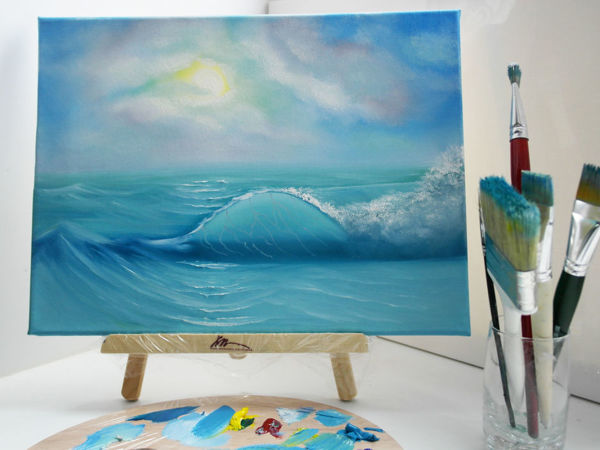 Today I would like to share with you the technique of painting seascape with oil paints.
For work, you will need:
1. Canvas.
2. Oil paints: titanium white, cadmium yellow light, red kraplak, azure, blue FTS, ultramarine, yellow-green.
3. Paint thinner.
4. Brushes: medium synthetic brush, bristle brush, thin brush, large construction brush.
5. Paper towels or napkins (to wipe brushes).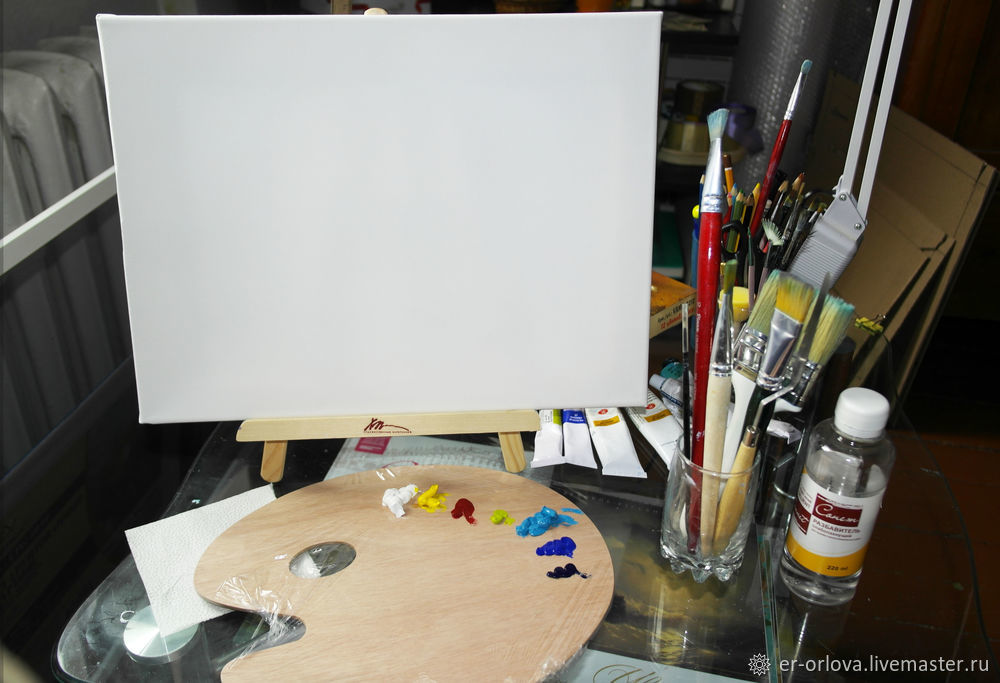 Let's start with a sketch. For it, we will use liquid paint. Divide the canvas into 2 parts. Draw the line of the horizon. In the sky, draw the sun and clouds. After that, go to water. Divide the water in half, plan the wave and foam. The sketch is ready.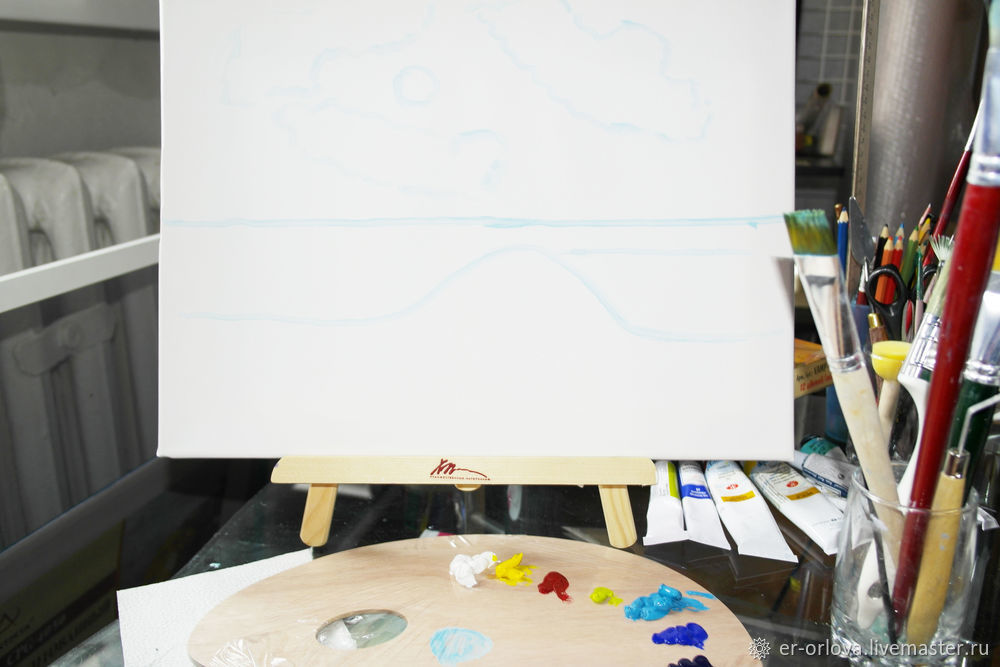 Next, you need a mixture of medium density. Take white, add thinner and a little of yellow paint. Hold a brush around the sun. Then, in the same color add, a little brighter yellow and a little of turquoise. Paint the second circle.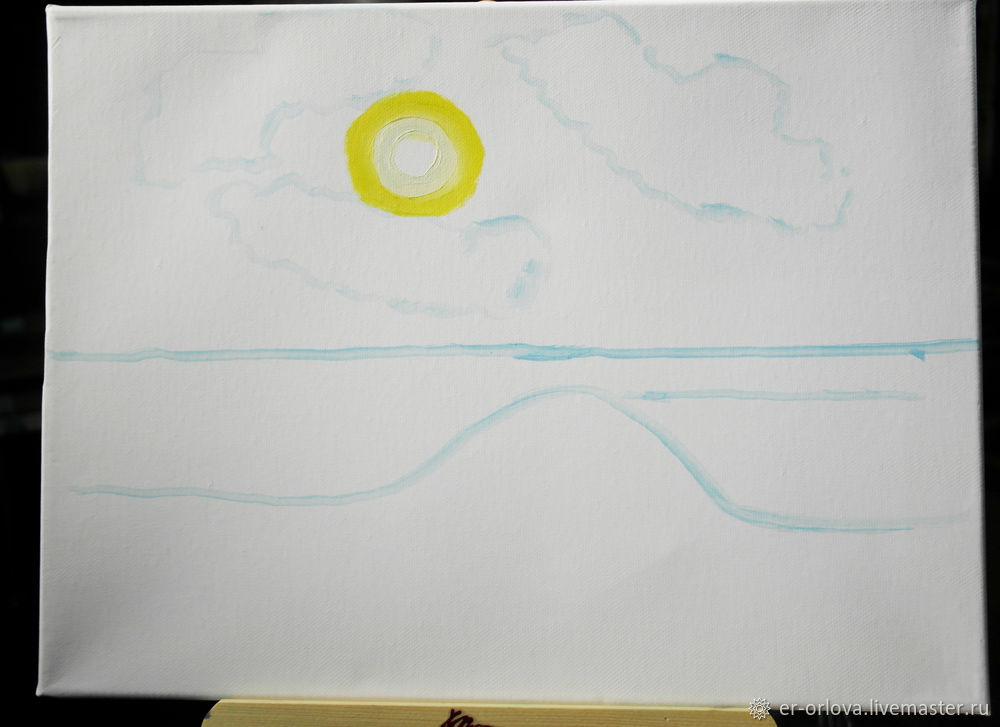 Stump in the following way: half of the brush in one color, the second half in the other, so without taking the brush from the canvas, stump, the brush should be perpendicular to the canvas. Then draw the sun with dry whitewash with a finger.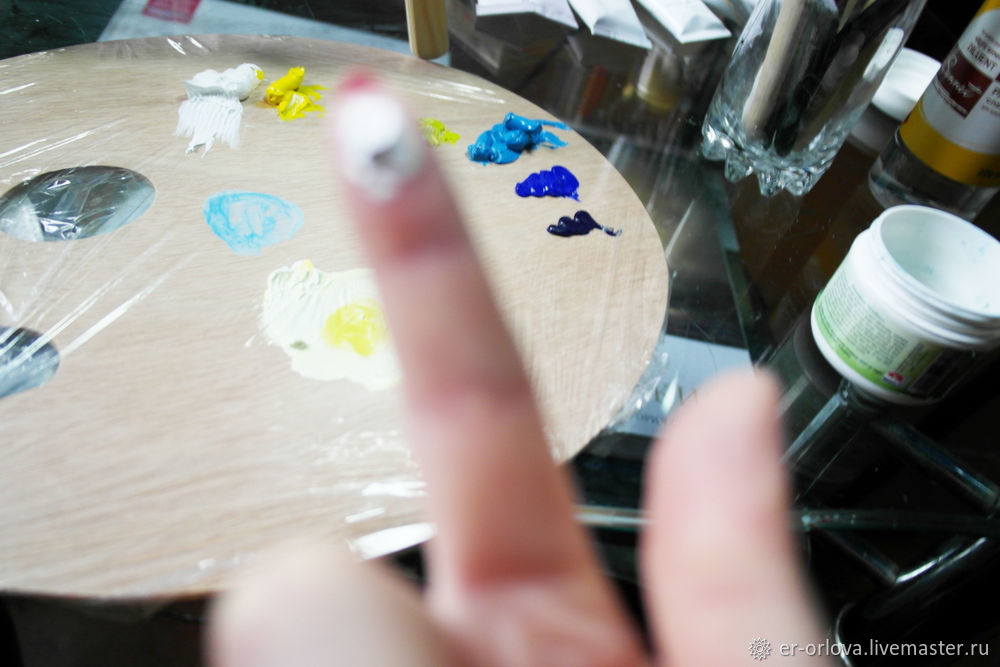 Then add turquoise and blue FTS to the mixture. Stump the along the line where 2 colors meet.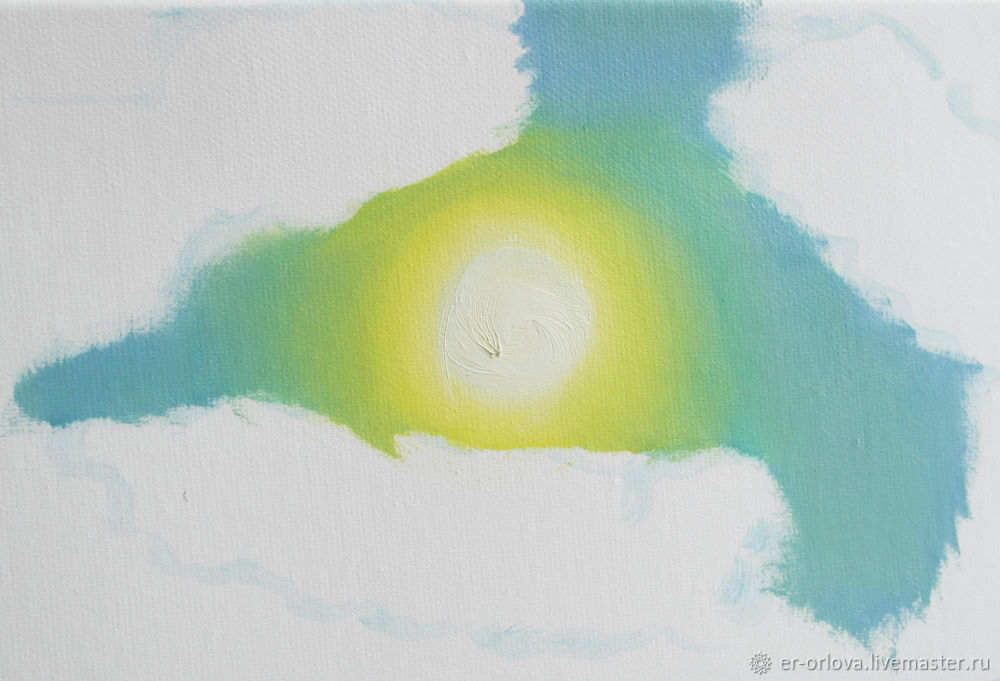 Then add blue and a little of crimson red to the mixture and cover the remaining part of the sky. Apply paint, then stump it. The sky color near the horizon should be lighter.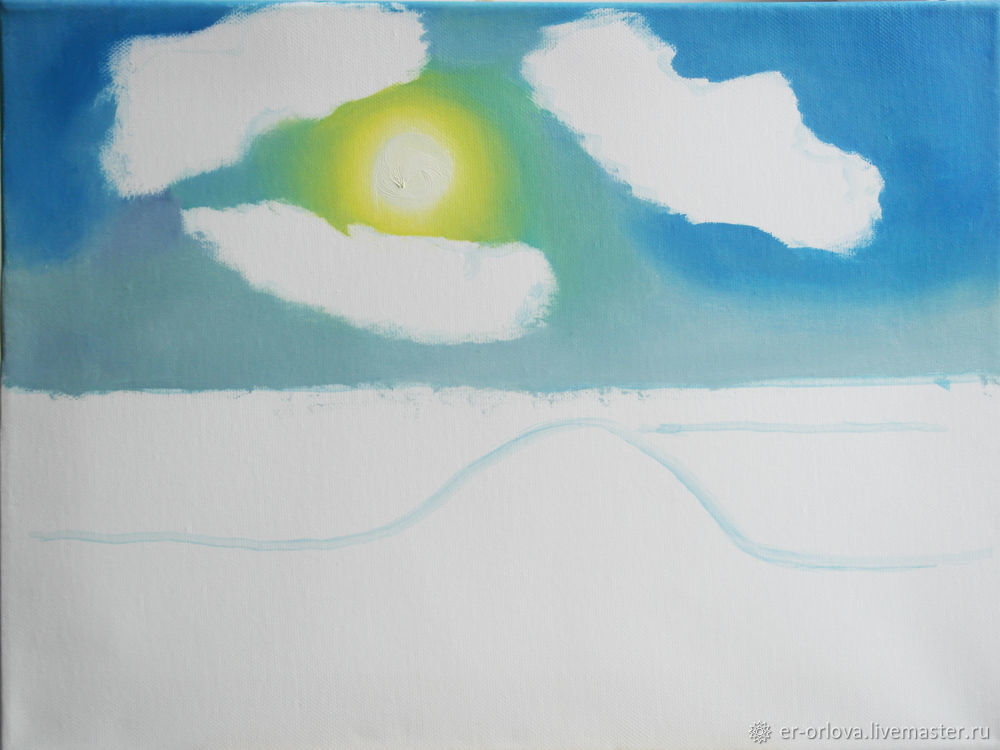 You can take a big construction brush to stump.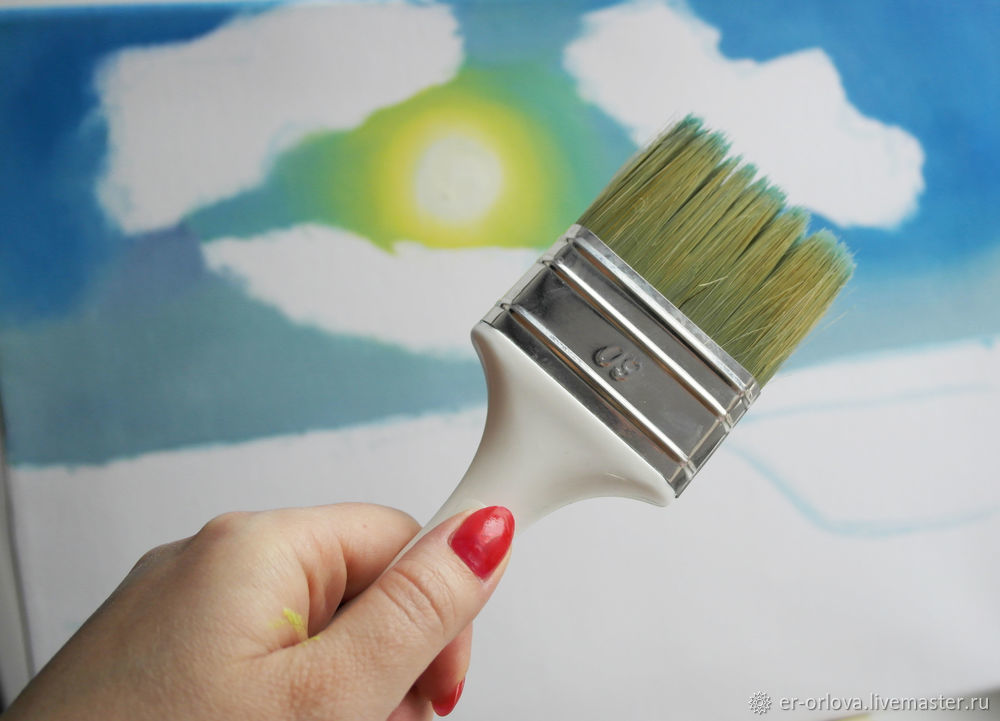 Paint the sidewalls with the matching color.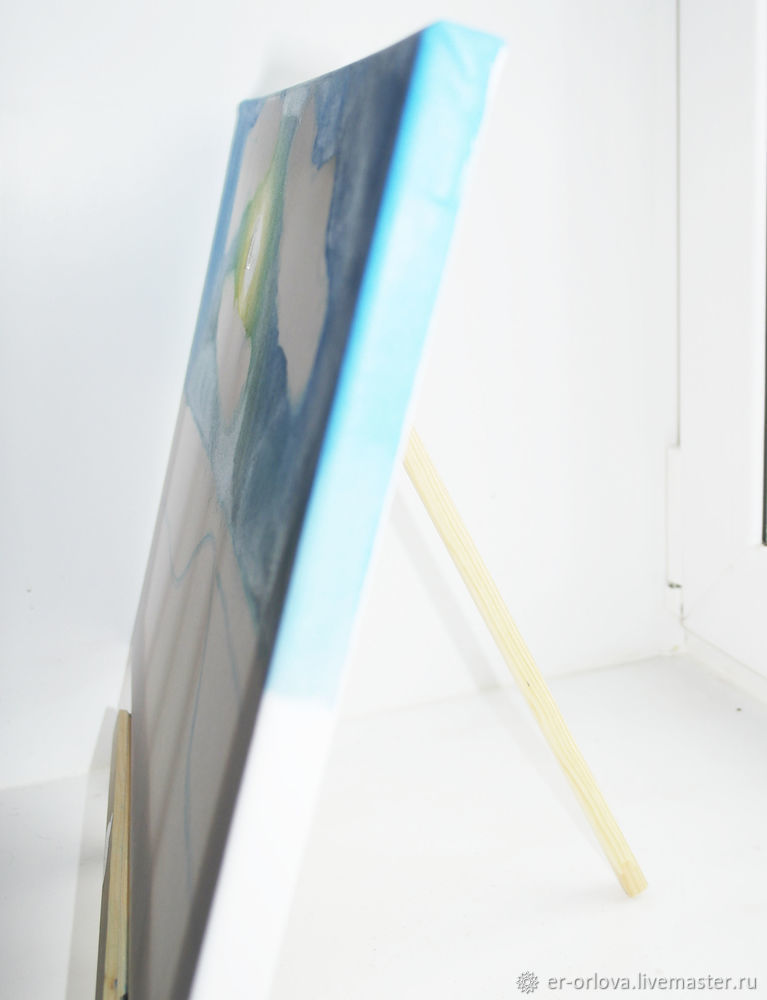 Then paint clouds. Take white, add blue, red kraplak, yellow cadmium, a little of thinner and apply the paint. You get gray paint, stump along the line where paints meet.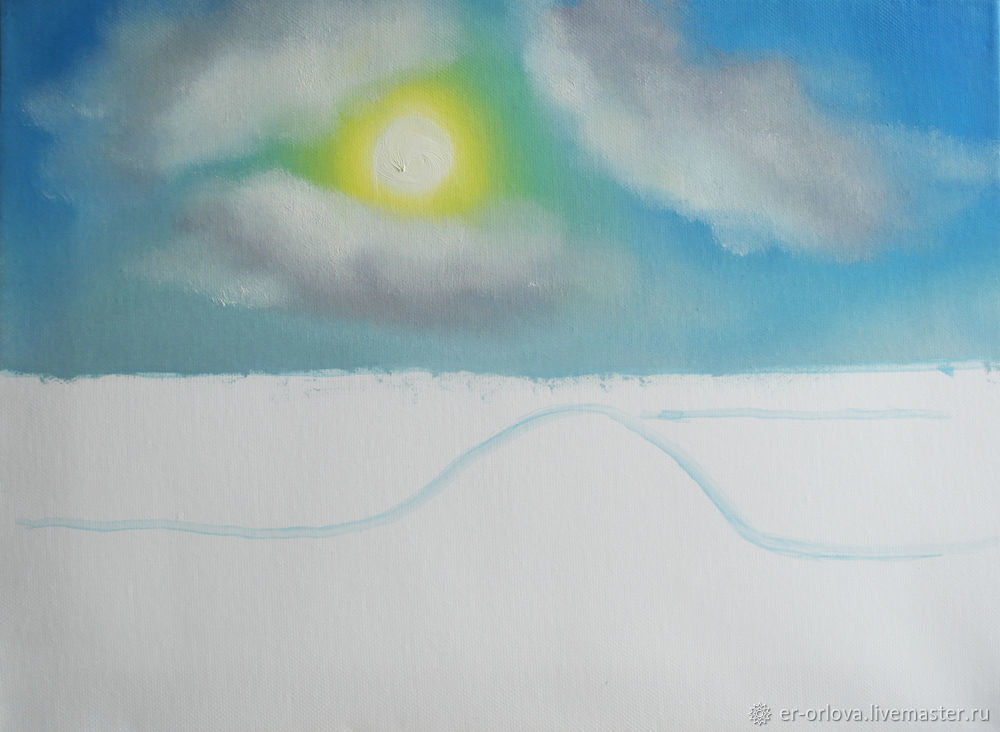 Take white paint, apply it on the clouds closer to the sun and mix with dark color.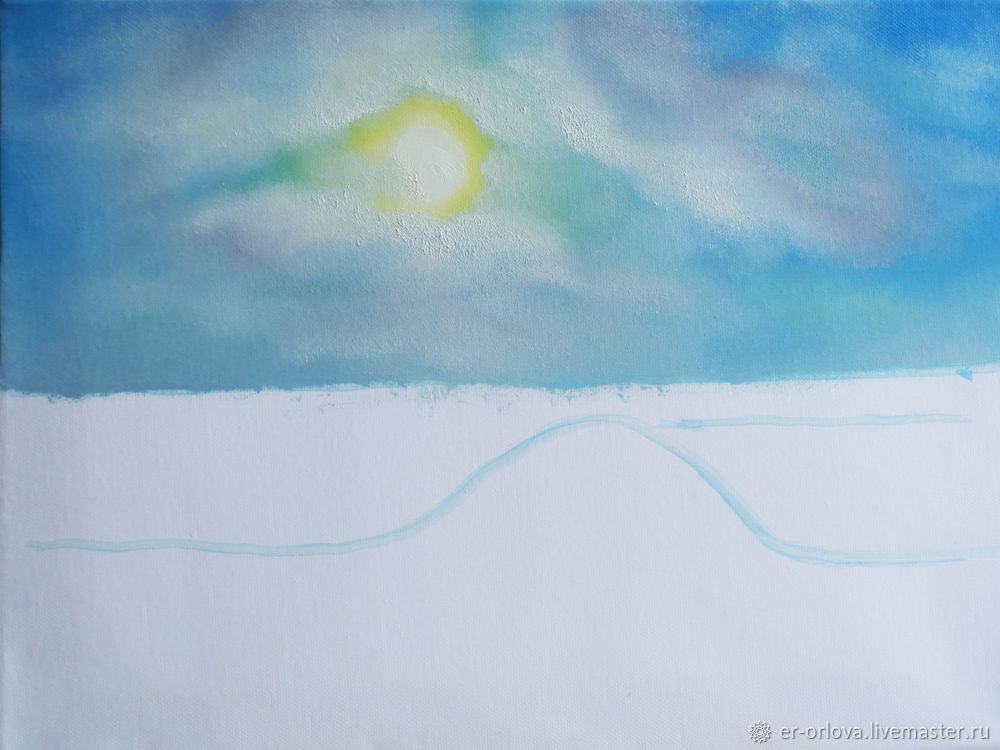 Move to the sea. Add yellow-green to the available blue color. Paint water with horizontal movements. After applying the paint, stump.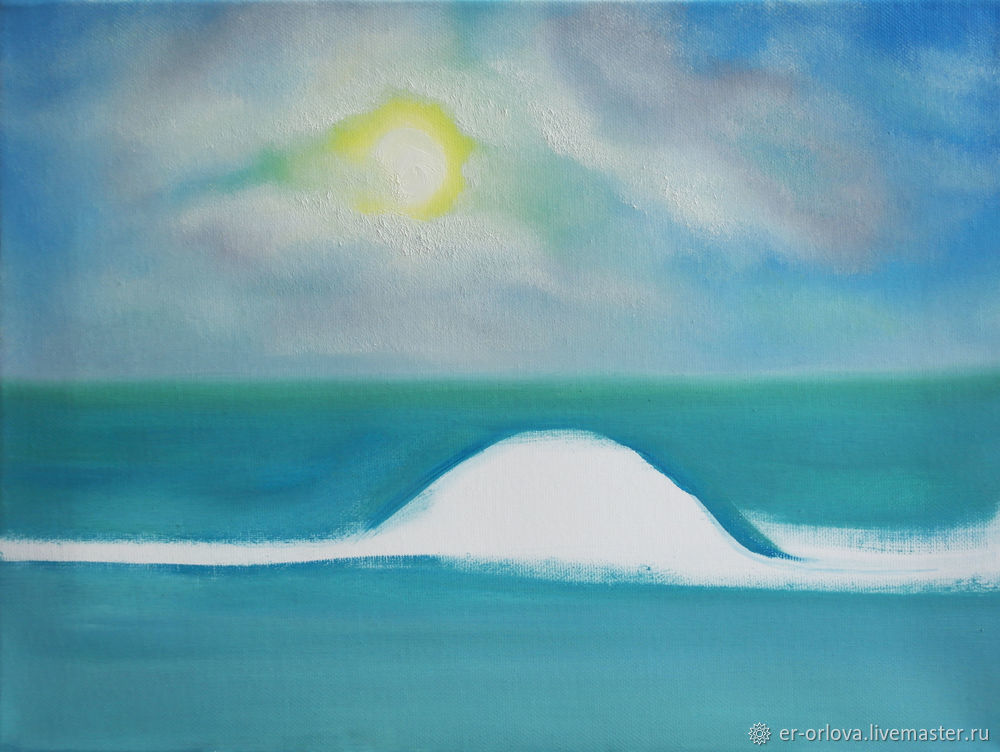 Take blue, add a little yellow and draw a horizontal line under the wave. Stump.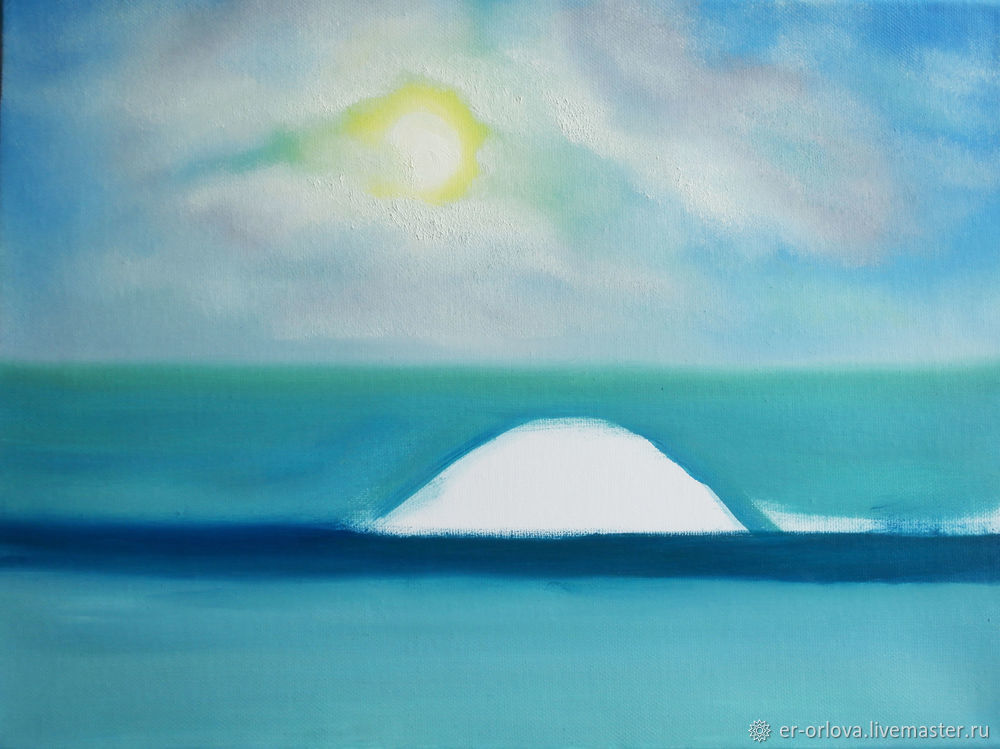 Mix white, azure and yellow-green and close 1/3 of the wave. Then add whitewash, paint over and cover the rest with a mixture of azure, yellow and white.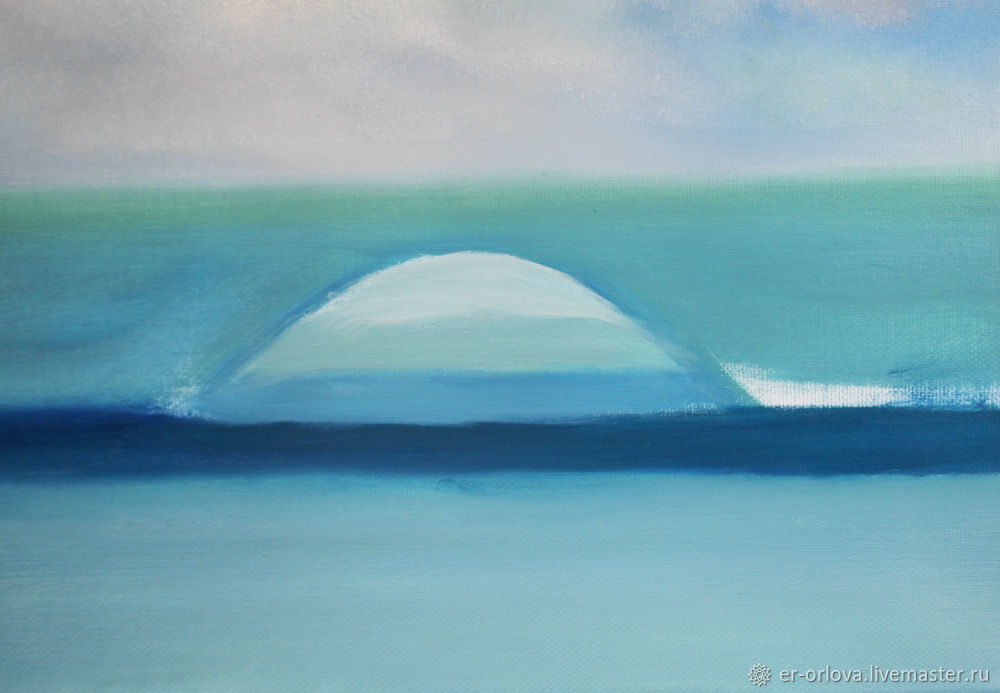 Stump.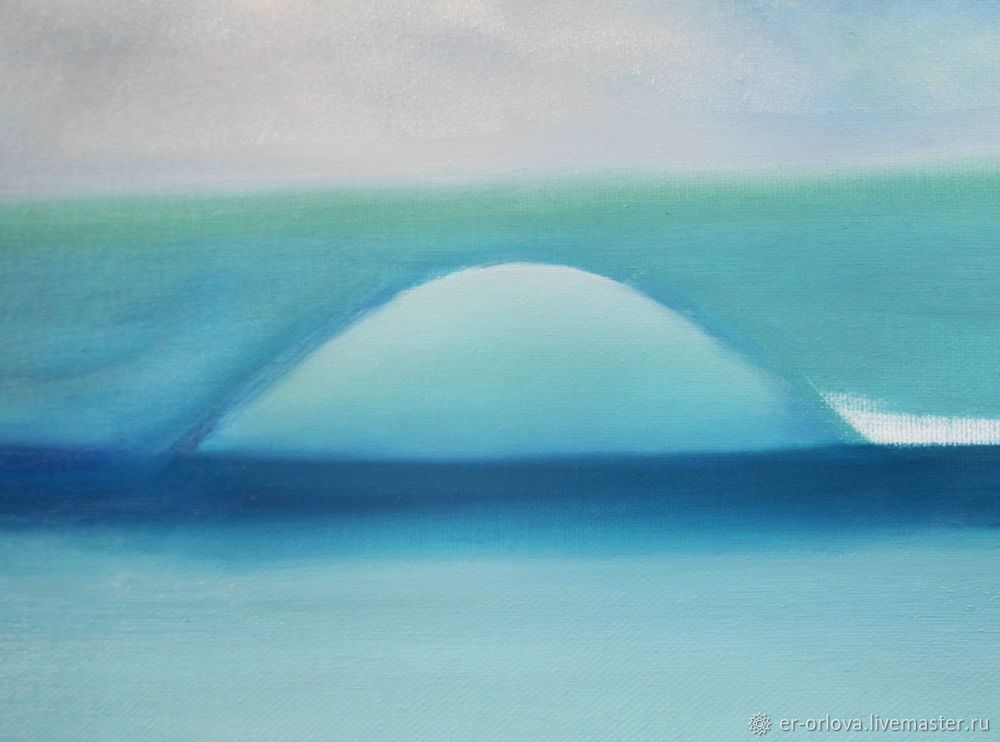 Then take dry white and paint the wave with the bristle of the brush.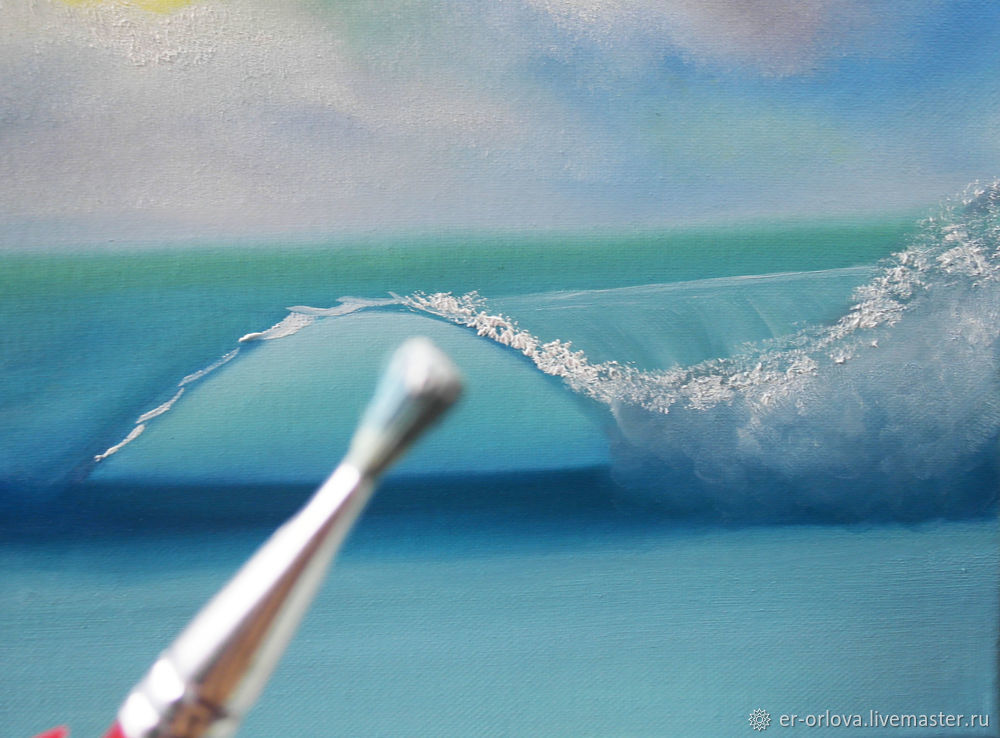 Then mix white, azure, red kraplak and thinner to get a liquid gray-purple paint, and depict movement inside the wave with a thin brush.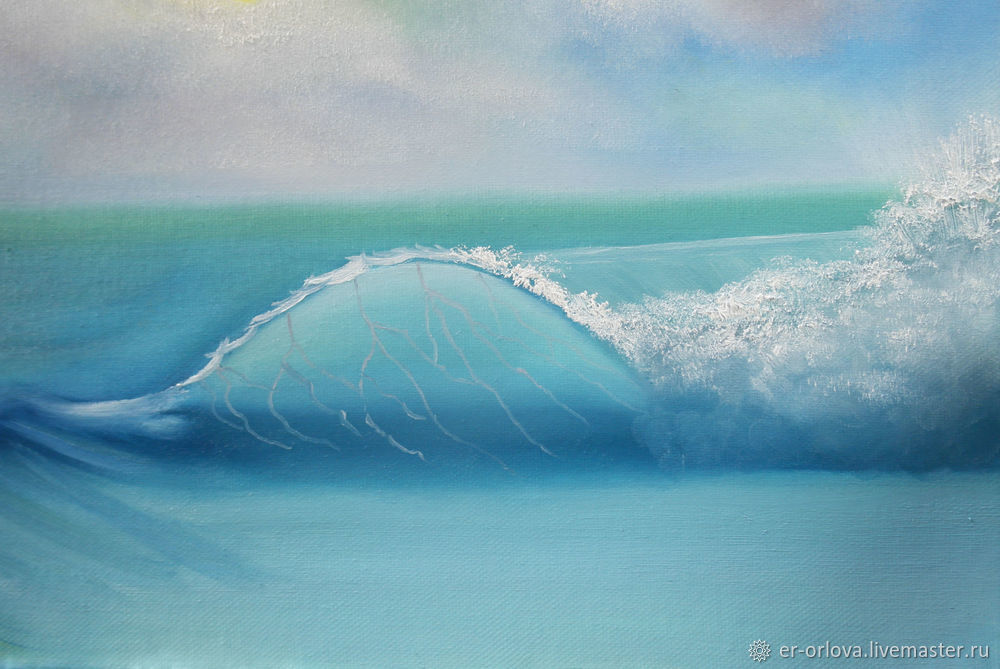 Then paint outlines of the waves and sunshine with white.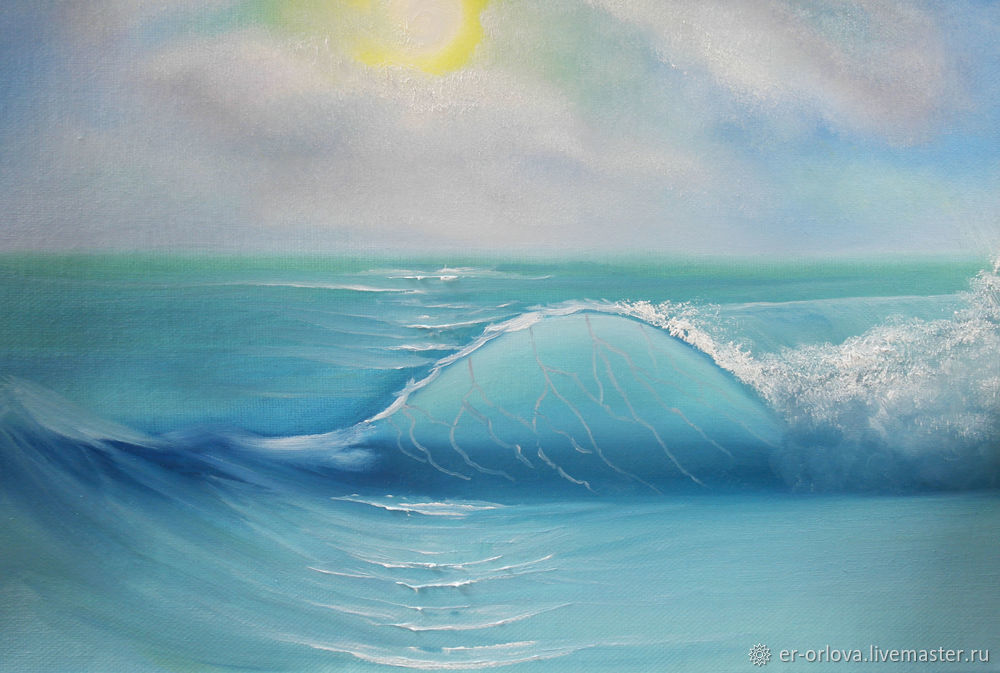 The picture is ready!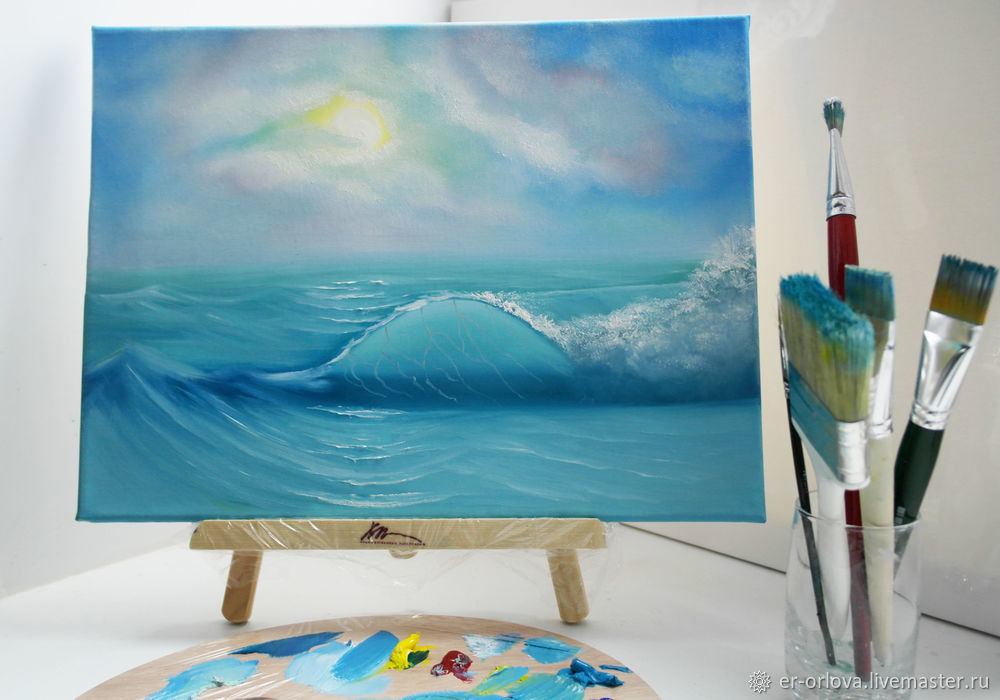 Thank you for your attention!
I hope my tutorial was useful. Good luck!
Clases magistrales sobre el tema