Wooden Photo Background in 8 Steps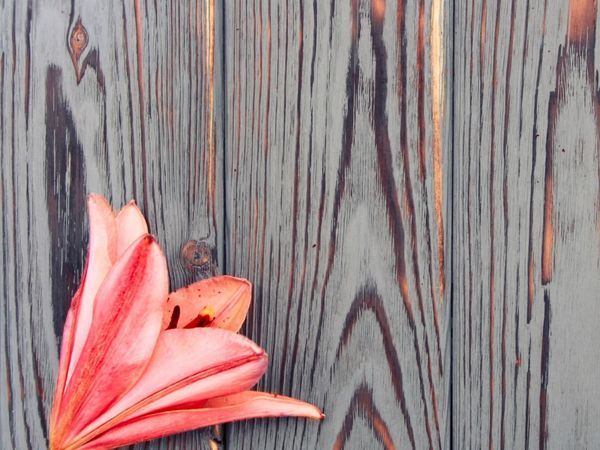 We present you our video tutorial on how to make a wooden photo background in 8 steps.
We use the capped billet of pine boards with a size of 60 cm x 60 cm. You can also use ordinary furniture board, which is sold in hardware stores in various sizes.
Let us begin!
1. Preparing the surface for scorching by brushing with a hard metal brush. You may skip this stage, but from our experience, after working with a brush, scorching is better as soft wood fibers rise and burn better.
2. Scorching. This should be done in a room free from flammable objects, and best of all — in fresh air. For scorching, we need a gas burner and a gas cylinder itself, try not to stay in one place for scorching to be even, without any spots, this is important if you are not going to tone or paint the board later.
3. After scorching, use a stiff brush again, brushing goes much better — soft fibers turn into dust, and a necessary texture of wood appears. But do not work too hard as it is necessary to remove only the burnt part of the fibers, if to bush the board too much, splinters may appear, which will be visible in close-up photos.
4. After brushing, the texture of wood appears, then remove all dust with a soft brush and wipe it with a damp cloth.
5. The best thing is painting! You decide what color you want, and add dye to white acrylic paint, mix it thoroughly.
6. With brush strokes paint the photo background, depending on the desired degree of transparency, paint in several layers. You may not paint at all if you want something wooden and classic, after scorching, the background has a beautiful color, in this case, we immediately move to step № 7 or number № 8.
7. This stage is for those who want a more visible wooden texture on the photo background, for this you need sandpaper to remove paint from solid wood fibers, showing the texture of the wood.
8. Topcoat. This time we have only mat varnish, but you can also use mat wax, it all depends on what you have at hand.
Here is the result! And do not forget that there is also a second side of the board, you can repeat our steps again to have two wooden photo background.
DIYs & Tutorials on the topic