How to Save a Bedside Table with Your Own Hands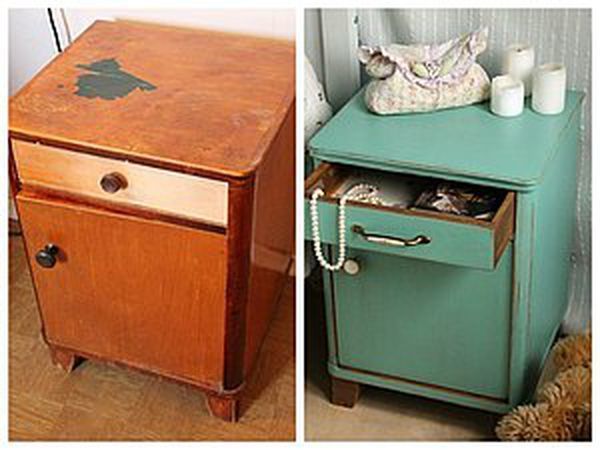 Once upon a time, there was a vintage cupboard from the 60s, the top with a spot probably from brilliant green.
Some minor chips on the leg.
I had a plan to radically change it. Refurbish and paint, make decoupage inside.
So, let me show you how I did it! 1) Disassemble
First I removed the handle, pulled out a drawer, a shelf, removed the door and the back, arm yourself with a flat head screwdriver.
All the detail should be put into a bag so not to lose anything.
2) Clean away old varnish
Take a power sander, sandpaper (if you do it the way I did, at home, curtain all film).
Solid birch is cleaned well, quickly.
If there are no power sander, you can use a wash (it's even faster). 3) Paint the box and the shelf inside, make decoupage (optional, of course)
I painted with acrylic paints. Use a synthetic flit-brush until it leaves streaks. I diluted the paint with water (a bit) and painted 3 coats with drying.
Glued napkins. 4) Stain, chips
Seal the chips on the leg using coating for wood, wait until it dries, then sand the surface.
I also coated the place from the old handle on the drawer because the new one would be on another place.
Take water based stain of nut colour and cover the whole table with multiple layers. Iy you wish, take wax and rub it into the surface where you want to make shabby parts. I rubbed at the edges and a bit near future handles. 5) Paint
There is nothing complicated.
Pick the colour. Paint 3 layers of acrylic paint.
When everything is completely dry, take very fine sandpaper 320 and slightly perfect the waxed places. 6) Cover the entire surface with varnish
To protect the surface I used semi-gloss paint Tikkurila.

7) Assemble all (looking for our bag with details)
By the way, to make the drawer move easily and smoothly, you can rub it with wax. Fix new hardware. Ready! I hope in detail have described, and someone helped advice or idea. All success and don't be afraid to experiment!
DIYs & Tutorials on the topic