DIY on an Envelope with a Declaration of Love
Difficulty: Very easy

Materials:

paper for scrapbooking

,

line

,

pencil

,

eraser

,

scissors

,

knife

,

tape

,

lighter

,

glue moment

,

glue pencil

,

stickers

,

decor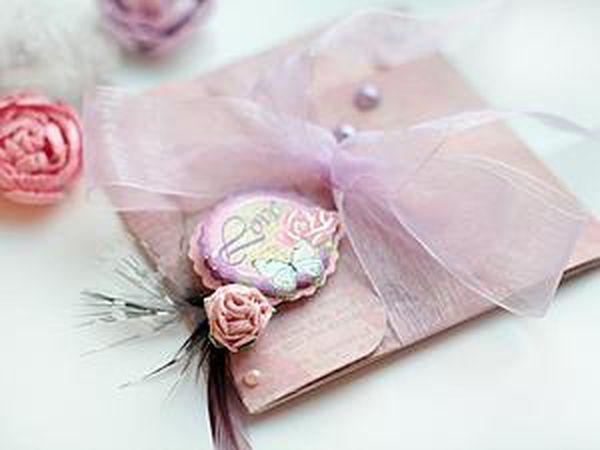 This envelope with a Declaration of Love is easy done yourself.
Materials you need:
1. Paper for scrapbooking (or coloured cardboard).
2. Ruler.
3. Simple pencil and soft eraser.
4. Tape, width 3 cm (colour at your discretion, I have violet transparent), lighter or matches.
5. Glue stick or PVA, instant glue.
6. Scissors (easier with rounded ends) or preferably a box cutter (at least a blade).
7. Compasses or special ruler.
8. For decoration: 3D stickers, paper roses, half pearls, feathers and metal findings. So start the process of creating the envelope.
Take the pencil and ruler and transfer the pattetn on paper. Draw on the right side of the envelope, so mirror the pattern. The basic square of the pattern is 10 cm x 10 cm.
Use the compasses to make a circle on the pocket: the circle must be more than 10 cm. Also draw a semicircle with the diameter of 2 cm on the side for the envelope fastener.
Then draw inserting lines for the ribbon of 3.2 cm. The distance between them is approximately 1-2 cm.
I got this. Cut it out carefully. Then fold the edges, gently bend them to and fro, help with the ruller.
Don't forget to erase the pencil. The next step is to glue the pocket and make the cuts for the ribbon. Pass it through. Glue the allowances on the pocket to make it ready. Cut through the fastener. Perfect the corners of the ribbon with the lighter.
The envelope is almost ready. You just need now to decorate it. For that, I used stickers and pearls, feather and leaves. The middle is empty because there will be a ribbon bow. And now put a note inside, cut it out from any suitable paper and make an inscription like "Marry me" (mind the "a", sorry :D ) ("for you", "from me to You", "My honey"... What you want, to sum up!). Fold the envelope. Tie a neat bow) Congratulations, the envelope is ready! DIYs & Tutorials on the topic