Honeycomb Shelf with Your Own Hands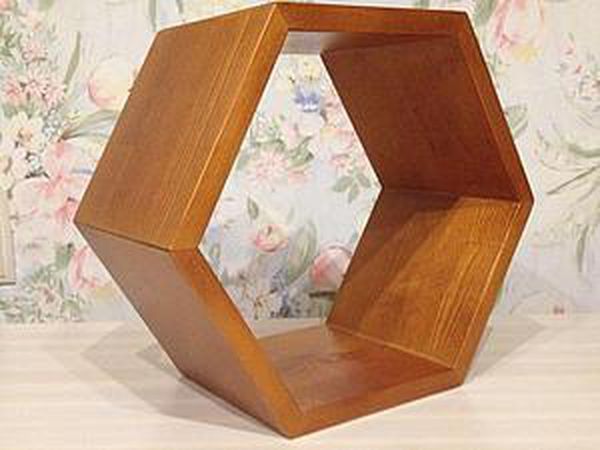 Furniture and interior items made of natural wood are always valued in our world. Today I will present you my tutorial on creating a honeycomb shelf. I have tried to consider the comments on my last tutorial and try to describe the entire technical process using as much detail as possible.
First, I draw the item I want on the Basis Furniturer program using exact dimensions and fasteners. The dimensions of this shelf: H 300 x W 350 x W 180 mm. After that I make sawing. I usually use furniture panel of extra category as the material. The most difficult while sawing is to keep the angle at the junction of the workpieces to make the assembly easy and the shelf smooth and proportional. I polished the workpieces with an abrasive sponge so that when being painted no nap raised up and the surface was smooth, then I fastened them together with Kleiberit glue and gun with nail plates. Such plates can be replaced with thin nails with small caps so that they weren't noticeable. The honeycomb shelf is assembled.
After the glue dries out, you need to see all connections and cover them with wooden paste coating, if necessary, then work the blank with the sanding sponge once again. The product is ready for painting. For painting, I use a concentrated Sayerlack cherry mordant and dilute it according to the instruction. To fix mordant and make it smooth, I covered all with Sayerlack two-component varnish for wood; if the surface is still rough after the first coating, it is necessary to polish the top layer of varnish with sand sponge for varnish and cover with the second layer of varnish. The honeycomb shelf is ready! The last thing left is to fix a fastener and hang it on the wall.
The shelf is very unusual in its design and because of that it can be designed with other shelves in various compositions on the wall. I will be glad if my tutorial was useful to someone and has inspired to create something new. Good luck to all in work and creativity!
Sincerely yours,
Oleg
DIYs & Tutorials on the topic